La Française Real Estate Partners International acquires a mixed-use property in Bremen (Germany)
La Française Real Estate Partners International, on behalf of a La Française collective real estate investment vehicle, has acquired a mixed-use (office and retail) property located at 65-71 Obernstraße, a prime retail location in Bremen, Germany.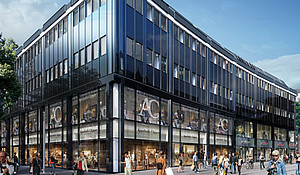 The modern and fully refurbished asset, Ansgari Haus, is centrally located and easily accessible by public transportation. The building was constructed in 1988 and underwent extensive refurbishment in 2014 and 2018. It has a total floor area of 5,700 sqm and is fully let to multiple tenants. Among the tenants of the five-storey property are the coworking space provider Spaces with 3,200 sqm on five floors including a roof terrace and the fashion house AppelrathCüpper, leading premium fashion retailer for women´s wear and lingerie, using 2,400 sqm of retail space spread over three floors.
The Hamburg project development company QUEST Investment Partners was the seller of Ansgari Haus in Bremen. Confidentiality has been agreed concerning the purchase price. In July 2017, QUEST Investment Partners acquired the part of the Bremer Carrée that had been vacant for years and renamed it Ansgari Haus. With the modernisation and new letting, QUEST Investment Partners is giving the city centre of Bremen new positive impetus.
Jens Goettler, Managing Director for Germany, La Française Real Estate Partners International, said: "Bremen is the 10th largest city in Germany and is undergoing a positive development. Its thriving harbor activity attracts companies and people from across Germany and abroad, which supports the local economy and creates demand for both office space and services. We were also convinced by the strong inner city which is visited by a substantial and growing number of tourists."
The Ansgari Haus is located in one of the most frequented areas of Bremen. "The two well-known main tenants will make a significant contribution to revitalizing the city center and provide new positive impetus," said Jan Rouven Künzel, Managing Partner of QUEST Investment Partners.
La Française Real Estate Partners International was advised by Norton Rose Fulbright on legal aspects and TA Europe on technical aspects. QUEST Investment Partners was advised by Hansa Partner Rommel & Meyer on tax aspects and by Jebens Mensching PartG mbB on legal aspects. Jones Lang LaSalle accompanied the sales process.
About QUEST Investment Partners
QUEST Investment Partners is a real estate project development and investment company with offices in Hamburg and Berlin. QUEST focuses on investments in commercial and residential properties with upside potential in top locations of major German cities. In retail developments the focus is on good inner-city locations in German metropolitan regions. The QUEST team has extensive experience in the development of high-quality real estate projects and continuously aims at increasing the real estate values of its shareholders and investors. QUEST's shareholders are the managing directors Theja Geyer and Jan Rouven Künzel as well as the investment holding company of the Hamburg entrepreneur Erck Rickmers who is invested in real estate, equity investments and shipping.

Download the press release