La Française collective real estate investment vehicles acquire third Amsterdam asset
Three La Française collective real estate investment vehicles, represented by La Française Real Estate Managers, have acquired, on an off-market basis, an office building in the city of Amsterdam from Avignon Capital.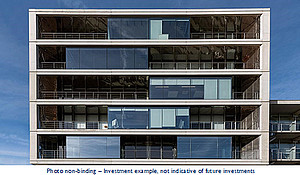 The property is located at 16 Danzigerkade on the IJ waterfront in the dynamic Houthavens area, the up and coming "live-work" creative hub in the northern part of the central business district of Amsterdam. The area promotes mixed-use zoning with soon to be 2.700 residential dwellings and aims to be recognized as a sustainable and climate neutral zone within Amsterdam.
The six-storey office property, completed in 2018, offers 6.812 m2 of floor space and 55 parking spaces (of which 49 are indoor) and is fully let to five tenants including an advertising agency, a distributor of timepieces, an instant film camera manufacturer and distributor, a coworking space supplier and a full-service production company.
Jens Goettler, Managing Director of La Française Real Estate Managers - Germany said, "We are delighted to secure a third property in Amsterdam with such efficient and flexible office space. Houthavens, where most of the stock is already let, is one of the few areas in Amsterdam City where new developments are still possible. This investment is perfectly in line with our ESG real estate strategy which favors acquisitions in mixed-use developments."
La Française Real Estate Managers was advised by Houthoff on legal aspects and by Savills Netherlands on technical Due Diligence