It's All Happening
This document is directed at investment professionals and qualified investors (as defined by MiFID/FCA regulations).
Wireless carriers across the globe have already launched or will soon launch 5G networks that will likely revolutionize how we use mobile devices, a vital component of nearly every business model. 5G is poised to overhaul the technology sector and drive economic growth. How might this take shape?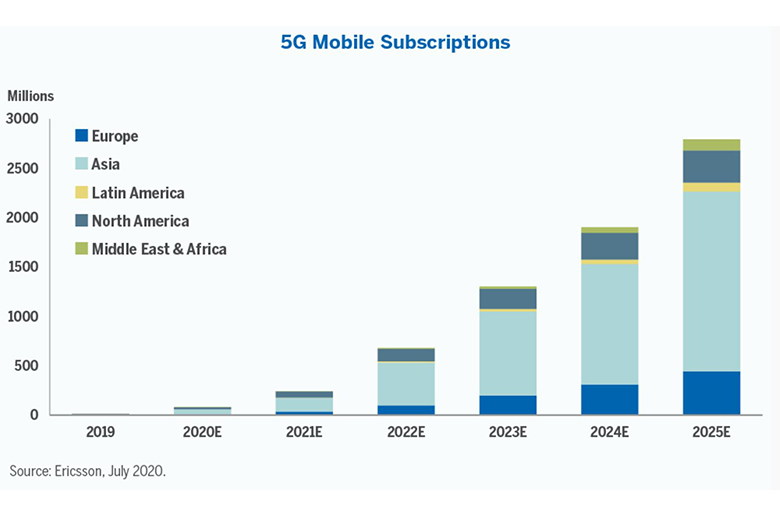 We are on the precipice of a sea change in wireless communication technology. Given that mobile broadband is such a prevalent technology with over six billion subscriptions worldwide and it is critical to how society functions, any change in technology is impactful. 5G, or the fifth generation of wireless technology, will likely be adopted in scale over the next several years. As the chart above shows, 5G could account for nearly two billion mobile subscriptions by 2024. Developed Asia and North America are expected to see penetration rise fastest.
5G will provide significant benefits relative to existing 4G technology. They include faster speeds, increased capacity, much lower latency and more efficient spectrum utilization.1 5G will enable the Internet of Things (IoT). IoT means devices operate with constant internet connection, which may help drive health care applications that work off of the real-time monitoring of patient details. IoT may also help drive autonomous driving applications that require communication between entities on roadways, such as cars and traffic lights.
Investors can gain exposure to 5G in a variety of ways. Tower companies may benefit from increased demand for wireless infrastructure to power 5G deployments. Companies that produce 5G chipsets are likely to see strong volume growth. Wireless carriers may see increased demand for new data services. Finally, smartphone vendors may see a robust replacement cycle that boosts shipments, as consumers feel the desire to upgrade to the latest technology.
Download Alger on he Money