Worried about a recession?
This document is directed at investment professionals and qualified investors (as defined by MiFID/FCA regulations).
When it comes to framing risk, especially in a recessionary environment, it is important to understand U.S. history. Gauging expected earnings in a difficult economic environment is key to understanding risk in investments.
Look for stocks where fundamentals may prove resilience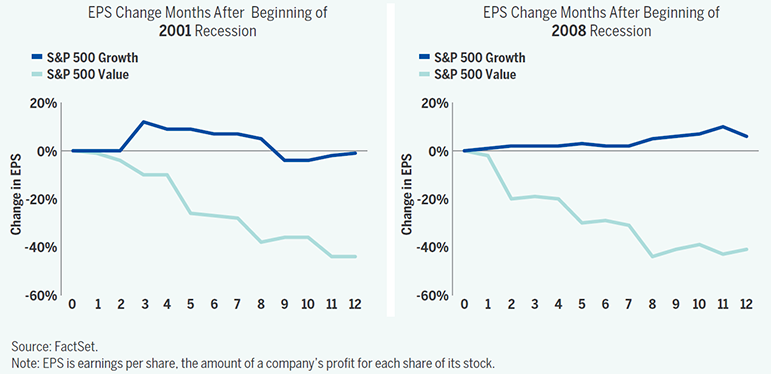 During the 12 months following the past two U.S. recessions (2001 and 2008), the aggregate of the S&P 500 Growth Index held steady while the S&P 500 Value Index companies experienced sharp EPS (earnings per share) losses.
Historically value stock earnings have been more impacted by economic volatility. Conversely, growth stocks have previously benefitted from steady earnings during difficult economic environments.
Because the earnings of growth stocks have previously proven more resilient than those of value stocks, investors should consider their Growth vs. Value weightings should they believe a U.S. recession is on the horizon. These past two recessions have shown the strength of Growth equity earnings.
Download Alger On The Money