Will the ECB be dovish enough?
The next ECB meeting will be the most interesting central bank meeting held in a while: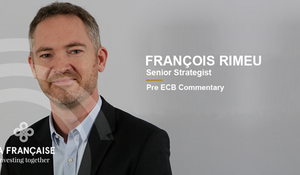 Details of TLTRO-III will likely be revealed. We expect TLTRO-III terms to be less appealing than TLTRO-II terms but better than anticipated at the beginning of the month (MRO -20bps).
We expect the ECB to extend its forward guidance until at least the end of March 2020: market based inflation measures (5y5y swap) are too low, and this is one of the easiest ways for Draghi to sound dovish.
We do not expect major changes to Macro Economic projections:
- On the positive side, headline inflation, GDP growth and unemployment have all surprised positively over the past few months.
- On the negative side, downside risks have increased: trade war, political risk (UK and Italy) and weak PMI data again in May.
Markets have already priced in a very negative outlook for the Euro Area as market expectations are more negative than the ECB's own forecasts.
Markets are also already pricing a probability of a further rate cut.
We see risk rewards tilted towards a market reaction with a slightly stronger Euro and, at the margin, higher rates, although Draghi has proven many times than he can be more dovish than the market expects (tiering might be an option)
But we think this time it will be harder.

Disclaimer
This commentary is intended for professional investors within the meaning of MiFID II. It is provided for informational and educational purposes only and is not intended to serve as a forecast, research product or investment advice and should not be construed as such. It may not constitute investment advice or an offer, invitation or recommendation to invest in particular investments or to adopt any investment strategy. Past performance is not indicative of future performance. The opinions expressed by La Française Group are based on current market conditions and are subject to change without notice. These opinions may differ from those of other investment professionals. Published by La Française AM Finance Services, head office located at 128 boulevard Raspail, 75006 Paris, France, a company regulated by the Autorité de Contrôle Prudentiel as an investment services provider, no. 18673 X, a subsidiary of La Française. La Française Asset Management was approved by the AMF under no. GP97076 on 1 July 1997.