WFH
This document is directed at investment professionals and qualified investors (as defined by MiFID/FCA regulations)
Working from home or WFH used to be frowned upon in some industries. But no more. One of the most powerful, lasting changes of the coronavirus pandemic may be increased WFH. The investment implications could be significant.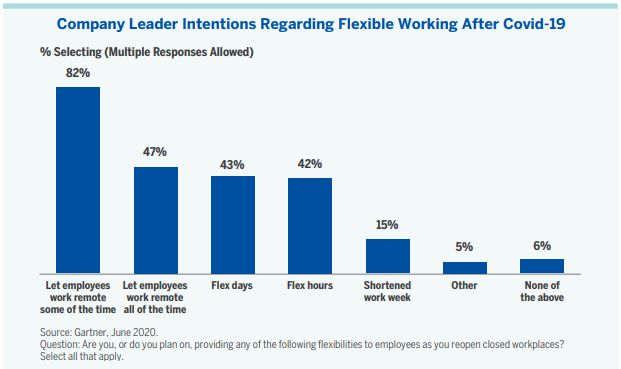 Many business leaders are embracing work from home, driven by a newfound appreciation of the productivity benefits of having employees work remotely. A recent Microsoft study found that with the remote work environment, employees are working four hours more per week. In fact, Schroders, a large multinational asset management firm, announced it that it is permanently adopting flexible working in order to provide a "huge shot in the arm" for the firm's productivity. The chart above shows many companies will be implementing similar strategies. Already, Twitter, J.P. Morgan and Shopify have made comparable moves.
People whose job involves handling or using information are finding working from home preferable to being in the office in many cases. The benefits of reduced commuting, more flexible schedules, casual attire and more time with friends and family are the big drivers, according to a recent survey from Clutch.
Companies impacted positively from this potential long-term trend include cloud platforms, desktop virtualization software, collaboration tools and cybersecurity solutions. Those on the losing side may include office real estate investment trusts, which could see rent and occupancy pressures persist in the future.
Download Alger on the Money