Vaccine hopes
This document is directed at investment professionals and qualified investors (as defined by MiFID/FCA regulations)
With Covid-19 cases increasing globally, investors and the rest of society have their hopes pinned on an eventual vaccine. Will the optimism about a vaccine ultimately prove warranted and which investments might benefit?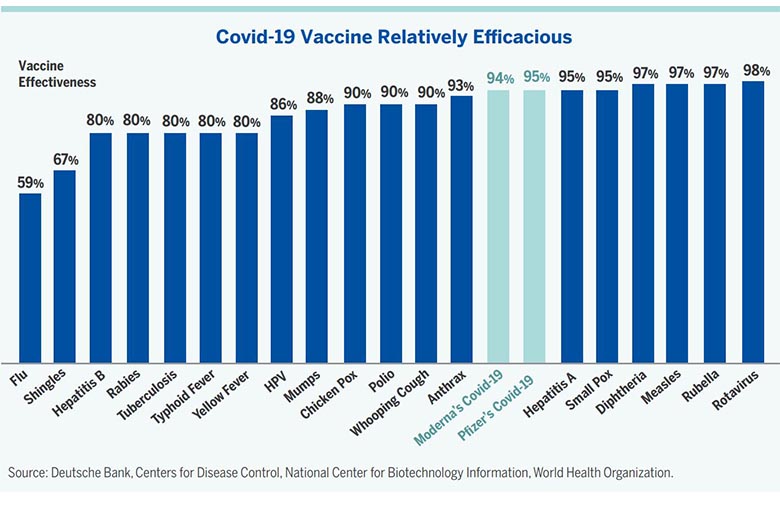 Data from Pfizer and Moderna show their Covid-19 vaccine at over 90% efficacy, above expectations. More recently, AstraZeneca's data implied 62%-90% efficacy of its vaccine. The FDA would have required a minimum 50% efficacy for introduction to the public, boding well for speedy approval by the regulator. These Covid vaccines' efficacy ratios are relatively high compared to many others, most notably the flu vaccine.
In fact, two thirds of investors surveyed by Deutsche Bank believe this vaccine will get us back to normal "slightly" or "much quicker" than expected. While Pfizer aims to have 50 million doses initially and Moderna 20 million, the U.S. hopes to have enough supply to vaccinate the U.S. population by around mid-year.
We believe companies that directly benefit from the production of a vaccine are interesting. However, indirect beneficiaries, those that lie at the intersection of growth and economic reopening, may be more interesting. Many traditional travel-related companies, such as cruise lines, may benefit though they are not attractive to us because they do not meet our long-term growth standards. We think a better way to create exposure to these end-markets would be with digital travel platforms.
Alger is committed to sustainability and is a signatory to the PRI.
Download Alger on The Money