US inflation came in below market consensus expectations of +0.2% mom
This week markets were rocked by macroeconomic data and geopolitics :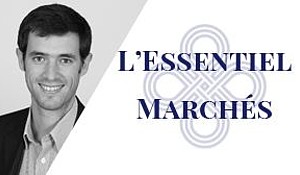 On the economic data side, we could not help smiling as we watched the dollar rally after a better than anticipated JOLTS report. Why were we amused? Simply because usually markets completely ignore this data, which is a secondary US labor market report. Investors were just heavily positioned long EUR/USD and took profits, which pushed the EUR down. JOLTS report was a mere excuse.


The figure this week was US inflation, which comes out below expectations at +0.1% versus +0.2% expected. Oddly enough, the dollar does not fall that much, -0.15% versus EUR. Fed members have a very dovish stance : Mr. Kaplan used to anticipate two rate hikes, and now thinks they should be "patient".
Markets anticipate now less than two hikes until end of 2019. We think they are overly pessimistic, especially considering labor market is getting tighter and the dollar has weakened this year.


Regarding geopolitics, Mr. Trump's "Fire and fury" hurts badly of course risky assets, with equities lower this week (Eurostoxx 50 -2.5%, Chinese equities -4%). We think fundamental good news on the macro and micro side should have the final say.
More about:
La Française Allocation Share Class R
La Française Allocation Share Class I
La Française Allocation Share Class S
The information and material provided do not, by any means, represent advice, offers, solicitations or recommendations for investing in specific investments. All statements reflect the opinions of their authors at their publication date and do not constitute a contractual commitment on behalf of the management company. These assessments are subject to change without notice, within the prospectus' limitations, which is the only legally binding document. La Française Group declines liability in any form for any direct or indirect damage resulting from the use of this publication or the information that it contains. This publication may not be reproduced in full or in part, disseminated or distributed to any third party without the prior written consent of La Française Group.

La Française Allocation is a French UCITS in regards to the 2009/65/CE Directive. The Fund received AMF authorization on July 15th 2003 and was launched on July 31st 2003. The strategy changed as of July 19th 2012. Management company : La Française Asset Management – Paris – approved by the "Autorité des Marchés Financiers" under N GP97076 on July 1st, 1997.
For more information regarding the French regulatory authority - Autorité des Marchés Financiers (AMF) – please visit www.amf-france.org.www.amf-france.org.