US core inflation came out slightly above expectations, at 1.8% vs 1.7% expected
Last week was volatile as was the week before, with equities correcting like the credit spreads.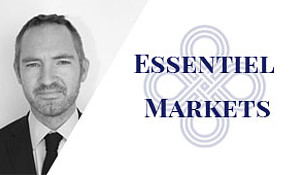 The true genesis of this slight correction is difficult to identify but from our point of view, it is due to:
A classical correction after a sharp increase
Earnings season was a bit below expectations in euro zone, with some specific risks that have awoken markets concerning assets overvaluation (Altice for instance),
News flow coming from emerging markets is still bleak with significant specific risks and weaker Chinese data. Chinese bad news were expected, however it is still not good for the market
The U.S. inflation came out slightly above expectations with core inflation at 1.8% vs 1.7% expected, whereas headline inflation has been at 2% as expected. Retail sales are in line and real estate data is well oriented. In the meantime, fiscal reform passed its first milestone (the easiest one…) with a House vote. Therefore last week was constructive in the U.S.
Euro zone activity data continues to be decent (Zew – level of investors' confidence, industrial production, German GDP…) with current account balance at the highest point ever and with Mr. Draghi increasingly confident about GDP growth over the next years.
Furthermore, data coming out of China was weaker with retail sales and industrial production below expectations. China is the only major area where economic surprises are negative (data coming out below market expectations).
Turkish state of affairs is not getting better with Mr. Erdogan criticizing publicly his central bank (admittedly, he has a long history on this). There is little chance that the latter will intervene in the short term, however it is in our eyes the only way to fight current market mistrust. The currency is cheap, but news flow is negative and should remain so at least until next inflation print early December. Thus we have cut the position.
NAFTA fifth round negotiation began last week. Nothing has leaked for now but there is no doubt that Mexican assets will be impacted this week one way or another.
More about:
La Française Allocation Share Class R
La Française Allocation Share Class I
La Française Allocation Share Class S
The information and material provided do not, by any means, represent advice, offers, solicitations or recommendations for investing in specific investments. All statements reflect the opinions of their authors at their publication date and do not constitute a contractual commitment on behalf of the management company. These assessments are subject to change without notice, within the prospectus' limitations, which is the only legally binding document. La Française Group declines liability in any form for any direct or indirect damage resulting from the use of this publication or the information that it contains. This publication may not be reproduced in full or in part, disseminated or distributed to any third party without the prior written consent of La Française Group.

La Française Allocation is a French UCITS in regards to the 2009/65/CE Directive. The Fund received AMF authorization on July 15th 2003 and was launched on July 31st 2003. The strategy changed as of July 19th 2012. Management company : La Française Asset Management – Paris – approved by the "Autorité des Marchés Financiers" under N GP97076 on July 1st, 1997.
For more information regarding the French regulatory authority - Autorité des Marchés Financiers (AMF) – please visit www.amf-france.org.www.amf-france.org.