Undiscovered Gems
Historically, small cap equities have attracted fewer Wall Street research analysts than large cap equities. The scarcity of small cap coverage creates opportunities for investors and portfolio managers who are committed to doing in-depth research on these companies.
Smaller Companies Flying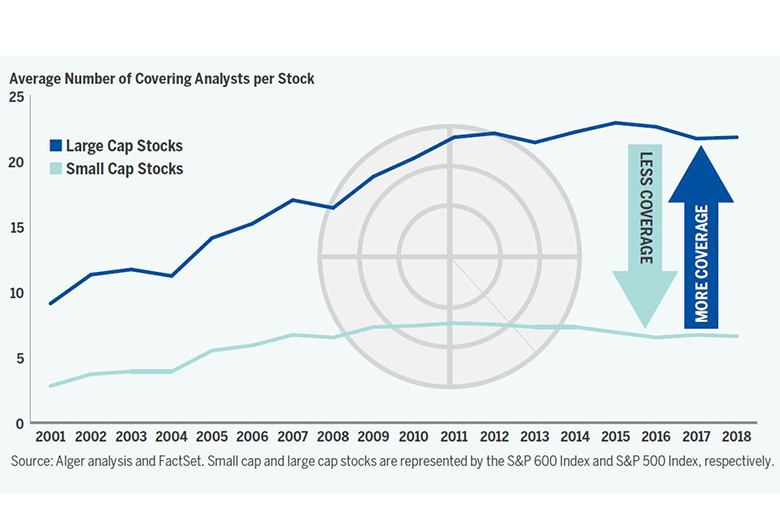 For a number of reasons, analyst coverage of public companies has generally narrowed over the years as a result of a greater number of independent research firms covering a shrinking pool of public companies. However, this narrowing has led to increased coverage of larger cap companies at the expense of small cap companies. Specifically, in 2003 there were eight more analysts on average covering a large cap stock than a small cap stock. Today, the average large cap company is followed by 22 analysts, while the typical small cap company is followed by just 7 analysts.
The result of small cap companies receiving less coverage by Wall Street analysts is that portfolio managers who conduct in-depth proprietary research may have a better chance of identifying undiscovered opportunities. This may be one reason why over the 20-year period ended June 30, 2019, managers in the small cap category produced an average annualized three-year excess return that was 168 basis points greater than that of the large cap category.1
There does not appear to be an end to the trend of Wall Street allocating more resources to large caps compared to small caps; therefore the opportunity for small cap portfolio managers (and the underlying shareholders) appears just as bright today as it did 20 years ago.
1 Callan, Active vs. Passive Report, Second Quarter 2019. Large cap equity style managers vs. Russell 1000 and Small cap equity style
managers vs. Russell 2000.
Download Alger on the Money