There's light at the end of the tunnel…
By Fabrice Jacob, CEO JK Capital Management Ltd., a La Francaise group member company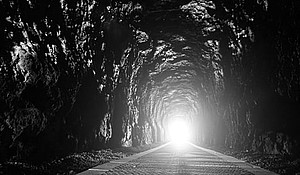 After months of writing about doom and gloom and telling investors to stay away from emerging markets in general and from China in particular, we believe light is finally appearing at the end of the tunnel. The stars seem to be moving back towards alignment.
The most important star is, of course, the trade dispute between the US and China that has reached a 90-day truce. It is important to stress that despite what is commonly reported in newspaper articles, the slowdown of the Chinese economy this year has very little to do with the impact of trade tariffs. Actually, the trade tariffs have not slowed down exports from China to the US but accelerated them as US distributors have stocked up ahead of the tariff implementation. Instead, the slowdown of the Chinese economy is a direct consequence of the deleveraging efforts of the Chinese government over the past two years.
Markets have been pricing a worst-case scenario, which includes tariffs to be imposed on the third and last USD270bn batch of imports by the US at a 10% rate and the second batch of tariffs being raised from 10% to 25% on 1st January 2019 (Source: Bloomberg). Any positive development such as the truce reached in Buenos Aires at the G20 summit can only be seen by the markets as good news.
The second star is US interest rates and their impact on the US dollar. A strong dollar has always been the enemy of emerging markets as many companies in these countries have significant US dollar debt exposure and as most countries settle their oil imports in US dollars. The fact that more and more economists are anticipating a slowdown of the US economy in 2019 and a recession in 2020 has not gone unnoticed. The Chairman of the Fed, Jerome Powell, made it clear in a recent speech that current US rates were not far from their "neutral level", hence lowering the expectations of rate hikes from now until the end of next year to two hikes. The 10-year Treasury Bond yield has come down as a result from its peak of 3.23% to 2.99% (Source: Bloomberg) as these lines are written. Even though the dollar has not reacted yet, it should weaken in all logic, bringing respite to emerging equity markets.
The next star is the oil price. With a few exceptions, emerging countries are large oil importers, China and India leading the pack. Oil price having dropped in a spectacular way (-31%) over the past two months, we saw emerging countries' currencies stage a nice rebound (led in Asia by the Indian rupee and the Indonesian rupiah), and the RMB stabilise. This is very good news, as long as it lasts.
The final star is the stimulation measures of the Chinese government that are gaining traction. A vast personal tax reform was implemented which we discussed last month, and now China is about to hit the last nail in P2P's coffin ("peers to peers") after having already shut down 80% of the 6,200 P2P platforms that China had at its peak. Now that total P2P loans are down to USD176bn (Source: Bloomberg), 30% below the peak level, the central bank instructed the survivors to cap their outstanding exposure to their current level and to gradually reduce it. In the city of Hangzhou, the nest of China's P2P sector, regulators have ordered all operators with less than RMB100m loan book to shut down their business. In a recent report, Citi estimated that only 50 P2P lenders will be allowed to operate in the future out of the remaining 1,200. P2P was the latest incarnation of shadow banking. We can hope that it will follow the footpath of trust funds and no longer be an issue for the financial system. This gives more leeway to the Chinese government when it comes to stimulating the economy as stimulation typically means more debt. With shadow banking issues in the process of being sorted out and deleveraging efforts having shown results over the past year, the government now has more flexibility than it used to. For instance, relaxation of home purchase restrictions and the removal of property price caps have already started in the South of China. It will very likely be extended elsewhere, knowing that the property sector is estimated to be directly or indirectly responsible for almost 20% of the economy (Source: Bloomberg & Citi).
Stars are gradually moving to the right positions, in our view.
This document is intended for relevant professional and qualified investors only and is not for retail use. This document is provided for informational / educational purposes only and is not intended to be, nor should it be, relied upon as a forecast, research or investment advice, and does not in any case constitute advice, an offer, a solicitation or recommendation to invest in specific investments or to adopt any investment strategy. Where La Française group has expressed opinions, they are based on current market conditions and are subject to change without notice. These opinions may differ from those of other investment professionals. Issued outside of Hong Kong by La Française AM Finance Services, home office 128, boulevard Raspail, 75006 Paris, France, regulated by the "Autorité de Contrôle Prudentiel" as investment services provider under the number 18673 X, affiliate of La Française. Issued within Hong Kong by JK Capital Management Ltd., a La Française group member company, licensed and regulated by the Hong Kong Securities and Futures Commission.