The US employment report leave the door right open for a rate hike
Global market sentiment was positive this week. Bond yields rose and major equity indices traded higher except EM who stayed under pressure. European equities rallied after the European Central Bank (ECB) meeting with banking sector outperforming.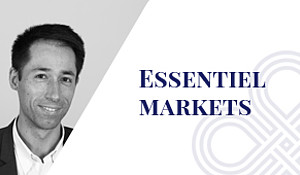 The main focus this week was the ECB meeting and the employment report in the US.
The European Central Bank kept its quantitative-easing program and rates unchanged as expected but rose inflation and growth forecasts for 2017-2018 and maintained it for 2019
ECB sees 2017 GDP growth at 1.8% vs 1.7% and 2018 GDP growth at 1.7% vs 1.6%
ECB sees 2017 inflation at 1.7% vs 1.3% and 2018 inflation at 1.6% vs 1.5%
The ECB acknowledged that the economic situation has improved, the cyclical recovery is gaining momentum, but underlying inflation pressures remain subdued. Economic risks are starting to recede but not fast enough to end stimulus.
We find that the ECB is starting to slightly change the tone of its communication, moving away from the dovish stance. We see this speech as a first taste of a more hawkish tone and think that it's a first step towards a less expansionary stance. Nevertheless, the ECB should remain cautious until political risk are not behind us.
On the macroeconomic side, mixed activity data was released this week:
German: mixed data with disappointing factory orders that recorded the sharpest fall since 2009, (dropping 7.4%) but industrial production surprised to the upside (rising 2.8%) and was mainly driven by the manufacturing component
Euro area: 2016 last quarter GDP was confirmed at 0.4%, a similar growth pace as Q3 2016: domestic demand strengthened while the net trade contribution to growth came in on the weak side, due to strong imports
China: trade balance and inflation data was released this week. Trade balance fell into deficit for the first time in three years, with exports undershooting while imports increased strongly. But data was likely affected by the timing of Chinese New Year. PPI inflation accelerated to 7.8% y/y in February but CPI inflation slowed to 0.8% y/y in February from 2.5% in January
In US, the employment report was robust. Payrolls climbed by 235 000 in February, followed a 238,000 rise in January. The unemployment rate fell to 4.7 percent. Wages improved modestly, with average hourly earnings climbing 0.2 percent from a month earlier. This report keeps the Fed on track for rate increase next week. There is no doubt that the Fed will hike rate next week. The odds of a March hike increased to 98%. Rate hike is now fully priced in by the market. Fed speakers have been hawkish recently. We believe that the change in the tone of FOMC communication was driven by strong economic data and now expect two additional hike this year.
For the week ahead, focus will shift to central banks: FOMC meeting will be key but there are also number of other central bank meetings such as England and Japan.
Kinds Regards.
More about:
La Française Allocation Share Class R
La Française Allocation Share Class I
La Française Allocation Share Class S
The information and material provided do not, by any means, represent advice, offers, solicitations or recommendations for investing in specific investments. All statements reflect the opinions of their authors at their publication date and do not constitute a contractual commitment on behalf of the management company. These assessments are subject to change without notice, within the prospectus' limitations, which is the only legally binding document. La Française Group declines liability in any form for any direct or indirect damage resulting from the use of this publication or the information that it contains. This publication may not be reproduced in full or in part, disseminated or distributed to any third party without the prior written consent of La Française Group.

La Française Allocation is a French UCITS in regards to the 2009/65/CE Directive. The Fund received AMF authorization on July 15th 2003 and was launched on July 31st 2003. The strategy changed as of July 19th 2012. Management company : La Française Asset Management – Paris – approved by the "Autorité des Marchés Financiers" under N GP97076 on July 1st, 1997.
For more information regarding the French regulatory authority - Autorité des Marchés Financiers (AMF) – please visit www.amf-france.org.www.amf-france.org.
"