The Robot Future Is Now
This content is for professional investors only as defined by the MiFID.
The earliest known industrial robot dates back to 1937. It was a crane-like device powered by a single electric motor. It was capable of five axes of movement and could grab objects and stack wooden blocks in pre-programmed patterns. Today's robots, of course, have advanced tremendously. Where are these advancements most prominent?
Global Size of the Market for Industrial Robots
Between 2019 and 2027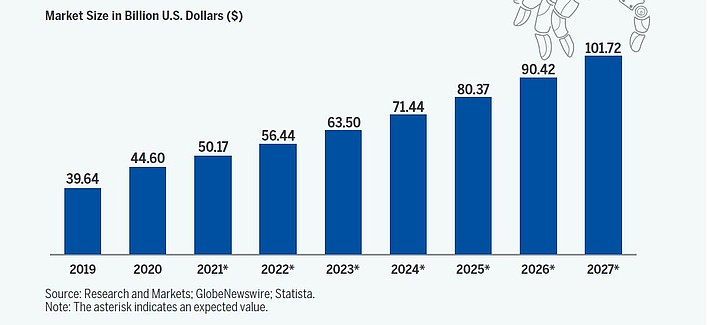 The bulk of robot use lies in the industrials sector. Historically, robots have predominated in automobile manufacturing and in hazardous environments. However, with the latest step changes in innovation, the end markets and applications for robots are accelerating from manufacturing to services, and from working in collaboration with humans to working autonomously.
Logistics is a key example where innovation in sensing and artificial intelligence have recently driven a robot revolution. Labor shortages in distribution centers were problematic pre-pandemic; Covid-19 has further highlighted the need for robotic solutions across various sorting, storage and fulfillment applications. Utilizing robotic applications in farming, harvesting and even crop protection is another example. We also believe health care will be one of the fastest growth areas in robotics across a number of applications including nursing services, surgical assistance, biotechnology and laboratory processing.
Companies that may benefit from the robot revolution will likely include global leaders in industrial robot manufacturing along with the underlying supply chain of servo motors (used to control speed in cars), lasers and component provider
Download Alger On The Money