The return of volatility
As we have said several times in the last few weeks, the key theme in February was the sudden return of volatility.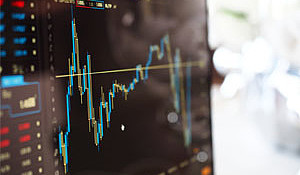 Aside from the technical factors that caused this spike (see Flash), let's take a look at the fundamental factors that may explain the recent halt to the bull market in equities since summer 2017:
The rise in interest rates? This is unlikely to be good news, but was to be expected in the current global growth and monetary normalisation environment...and a 50 bp increase in interest rates shouldn't have too much of an impact on earnings, assuming that rates don't go too much higher. We do not expect this level of increase to affect the buoyant real estate sector or impact significantly on the refinancing of US firms.
The rise in inflation? The relationship between inflation and corporate earnings is not an easy one to analyse. As equities are real assets, they should benefit from inflation via an increase in their earnings. But this applies only up to a certain point, since if inflation is too high it increases uncertainty, and therefore, risk premiums. Historically, market valuations are at their highest when inflation is between 3% and 3.5%, but although rising at present, inflation is nowhere near this band and should not therefore be considered a threat.
A reduction in excess liquidity? In general, central bank balance sheets are still expanding and should continue to do so until at least the end of the year. As such, we do not expect the excess liquidity to be cut off suddenly in the short or medium term.
The protectionist policies of Donald Trump? We should keep some perspective on Trump's recent announcements: even if such policies were implemented, they would have only a modest impact on growth via global trade, and historically, have rarely triggered an escalation of protectionist measures. Nonetheless, it would be a concern if these measures were applied to key sectors.
For all these reasons, we retain a positive medium-term view on the equity markets and see the significant share price falls as an opportunity. We are also maintaining a slight upward bias on inflation breakevens, and rates in general.