The Opportunity in Saas
The software industry is in the midst of a multi-year secular shift toward software as a service (SaaS)
Innovation in cloud infrastructure and networking technologies over the last 10-15 years has enabled an increasing number of new and innovative SaaS companies to come to market. In our view, this shift from on-premise license models to SaaS could last for many years to come.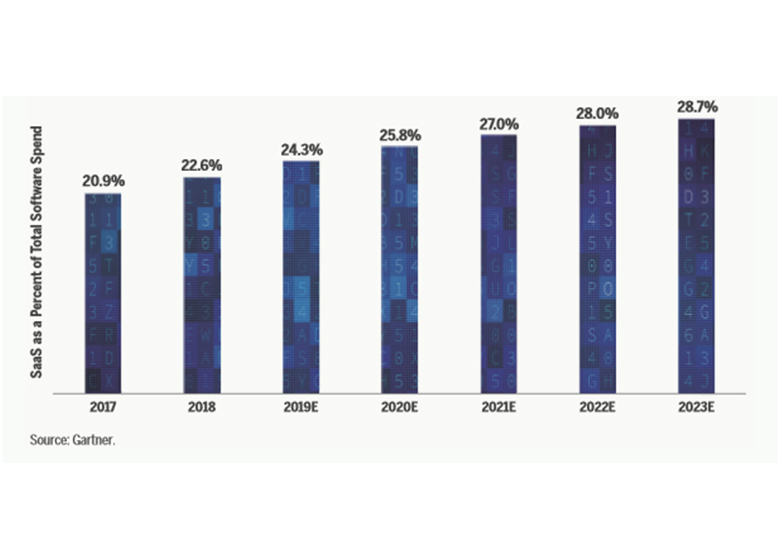 Spending on SaaS is expected to increase from from 20.9% of total software spend in 2017 to 28.7% in 2023. Cloud-based SaaS software is deployed over a network and paid for by customers with a recurring subscription fee. An example of SaaS is customer relationship management software that allows businesses to collect information on leads, prospects and customers on a single online platform, enabling users access anywhere and more highlytargeted client experiences.
The advantages of SaaS include lower initial costs, pay-as-you-go pricing, greater functionality and access to more frequent upgrades. SaaS users do not have to maintain their own infrastructure to run these applications.
SaaS company investors may realize increased financial visibility because revenue is comprised of recurring subscriptions, higher renewal rates and potentially higher margins relative to non-SaaS companies.
We believe investment opportunities are most apparent in SaaS companies that serve large addressable markets, offer disruptive and differentiated technologies, and have sustainable competitive moats and efficient go-to-market models with compelling unit economics.
Download Alger on the Money