The manufacturing sector remains very dynamic in Eurozone
The main focus this week is the annual Jackson Hole Economic Symposium, one of the biggest events of central banks each year that begins today until tomorrow.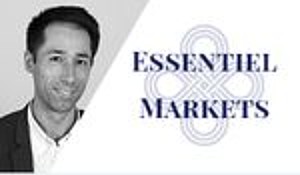 The topic of the conference is "Fostering a Dynamic Global Economy." No major policy changes from the central bankers are expected as discussion should focus on financial stability and growth.
• Janet Yellen kicked off the event with opening speech. No surprise, she stuck to the topic of financial regulation as expected. The speech delivered nothing new on the economy and monetary policy
• Mario Draghi will speak this evening, low expectations too as the ECB has already said that there will be no change in policy stance until the September meeting.
Our view remains unchanged for one more interest rate hike this year in the US and the beginning of the balance sheet reduction.
We think that market expectations remain too low as probability for a December rate hike is only at 30%.
Aside that, US political risk has picked up again as President Donald Trump threatened to shut down the government in front of discussions on raising debt ceiling in Congress.
On the macro side, activity data for the Q3 was released this week.
• In Europe, data confirmed that economic outlook is definitely improving. The manufacturing sector remained very dynamic, as PMI rose to 57.4 in August from 56.6 in July
• US data was mixed, housing market slowed down. New home sales declined by 9.4% in July, falling to 7 months low.
More about:
La Française Allocation Share Class R
La Française Allocation Share Class I
La Française Allocation Share Class S
The information and material provided do not, by any means, represent advice, offers, solicitations or recommendations for investing in specific investments. All statements reflect the opinions of their authors at their publication date and do not constitute a contractual commitment on behalf of the management company. These assessments are subject to change without notice, within the prospectus' limitations, which is the only legally binding document. La Française Group declines liability in any form for any direct or indirect damage resulting from the use of this publication or the information that it contains. This publication may not be reproduced in full or in part, disseminated or distributed to any third party without the prior written consent of La Française Group.

La Française Allocation is a French UCITS in regards to the 2009/65/CE Directive. The Fund received AMF authorization on July 15th 2003 and was launched on July 31st 2003. The strategy changed as of July 19th 2012. Management company : La Française Asset Management – Paris – approved by the "Autorité des Marchés Financiers" under N GP97076 on July 1st, 1997.
For more information regarding the French regulatory authority - Autorité des Marchés Financiers (AMF) – please visit www.amf-france.org.www.amf-france.org.