The Internet Circa 1996?
This document is directed at investment professionals and qualified investors (as defined by MiFID/FCA regulations)
The Dow Jones Industrial Average was under 7000 and Mariah Carey, LL Cool J and Alanis Morrissette ruled the music charts; 1996 was a long time ago.
But that is how far back we must go in the evolution of the internet to find a comparable point in the growth of the new asset class of "cryptoassets" (e.g., Bitcoin, Ethereum, etc.). If that comparison is fair, we believe there may be considerable growth ahead in cryptoassets.
Early in Cryptoasset Adoption?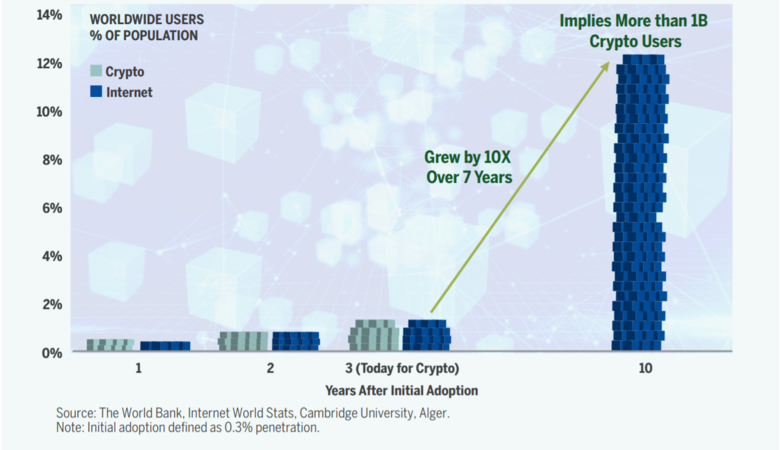 In 1996, three years after initial adoption, there were about 75 million internet users globally out of a population of 5.8 billion, implying a penetration rate of 1.3%. In 2020, crypto user penetration is at the same approximate level.
According to data from Cambridge University, the compound annual growth rate of cryptoasset users is 70% over the past two years, totaling over 100 million users today. If crypto follows the growth of the internet, the number of crypto users seven years from now would be over 1 billion.
Ultimately, the internet has grown to 4.8 billion users. Imagine the potential for crypto if it has a similar growth trajectory.
Download Alger on The Money