The first three quarters of the year 2016 are over
It has been a bumpy ride and volatility will continue, as we remain concerned about the strength of the global economic recovery and the outcomes of political events around world.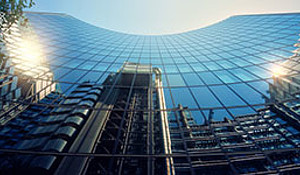 As we start to look for return generating opportunities in the final quarter of 2016, it is important to examine the performance of different asset classes, the behavior of real estate securities over the past nine months and the outlook on yields and total return.

This paper introduces investors to the topic of green / sustainable investing in the real estate securities sector. Readers will better apprehend the notion of "green" & "sustainable" as it applies to real estate equities. Furthermore, we will present empirical evidence that companies with a strong sustainability orientation do experience better financial performance. We will also argue that the future of real estate securities investing is in green real estate securities products – that are still hard to come by in the investment community. Undoubtedly, we would like to be considered as innovators with a cutting-edge approach to the real estate securities asset class.

First, a few basic questions:
1) What is a real estate security and a REIT?

People often use the term real estate security and REIT interchangeably.
We do not think that it is correct but understand the simplicity of using the term REIT for its brevity rather than real estate securities. In fact, the REIT is a subcategory of real estate security.

REIT is an acronym that stands for "real estate investment trust". There is no single definition for a REIT. Rather, they are defined by the legislation of the country of registration. However, REITs (regardless of country of origin) do share some commonalities – majority of net profits have to be distributed in the form of dividends to shareholders in exchange for tax transparency. The different legal systems may further impose other constraints such as external management, limitation on the degree of leverage, limitation vis-à-vis green field development activity, etc. Roughly, two-thirds of the global real estate securities universe can be characterized as REITs.

Companies that do not enjoy tax transparency and do not have any specific obligations regarding distribution are not REITs, but rather real estate operating companies. They are not subject to any specific regulation vis-à-vis leverage, development activity or distribution; hence, as a result, their dividend payout ratios tend to be lower and their engagement into development activity higher. Japanese, Singaporean, Hong Kong and many European companies tend to fall into this category.
The real estate securities universe is not limited to REITs and real estate operating companies.
There are other types of real estate instruments that are eligible for inclusion and investment: real estate bonds and real estate preferred equity.

In conclusion, public real estate securities can be categorized as follows: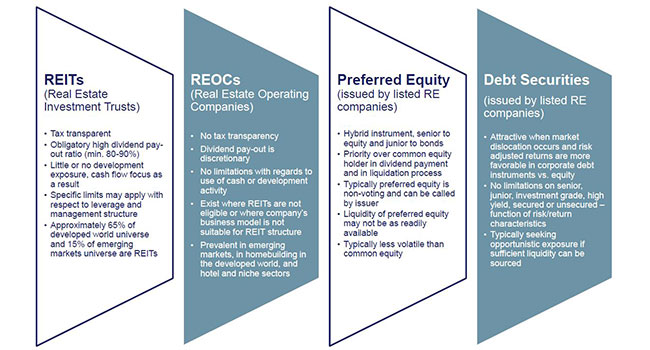 Geographically speaking, the real estate securities universe – as defined by the most recognized global real estate securities index, FTSE EPRA/NAREIT Global Developed Index
– consists of 330+ real estate securities, spread across North America, Europe and Asia...