The ECB will keep all options open, but now is the time to communicate, not act
The next ECB meeting is scheduled for July 25th.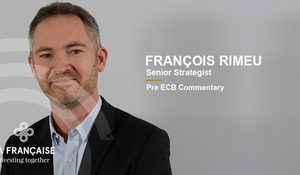 Please find below what we expect:
We expect a change in forward guidance with policy rates "at present levels or lower" and an extension to September or December 2020, preparing the market for potential rates cut in September.

We expect no change in deposit rates.

We expect the governing council to keep all the options open before the September meeting including:

Potential rate cut;

Aier deposit system;

A new round of quantitative easing.

We don't expect mention of symmetry of the ECB's inflation objective, but this topic could be discussed during the Q&A.
The language should stay very accommodative, in line with recent declarations at Sintra. We do not expect notable market reaction considering current market pricing already reflecting dovish expectations
Disclaimer
This commentary is intended for professional investors within the meaning of MiFID II. It is provided for informational and educational purposes only and is not intended to serve as a forecast, research product or investment advice and should not be construed as such. It may not constitute investment advice or an offer, invitation or recommendation to invest in particular investments or to adopt any investment strategy. Past performance is not indicative of future performance. The opinions expressed by La Française Group are based on current market conditions and are subject to change without notice. These opinions may differ from those of other investment professionals. Published by La Française AM Finance Services, head office located at 128 boulevard Raspail, 75006 Paris, France, a company regulated by the Autorité de Contrôle Prudentiel as an investment services provider, no. 18673 X, a subsidiary of La Française. La Française Asset Management was approved by the AMF under no. GP97076 on 1 July 1997.