The earnings season in the US is over and has been positive
Unlike previous ones, the last week was rather quiet. Not too much to report in terms of macro events. Let us note however: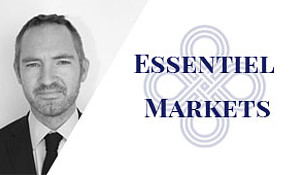 Fed published on Wednesday night FOMC (Federal Open Market Committee) minutes. The tone was on the hawkish side, likewise the release. The Fed members said they were revising upward their GDP expectation, due to stronger activity figures, very accommodative financial conditions, fiscal reform and the USD300bn spending package that was approved recently. The participants said as well that a strong growth meant more Fed funds hikes than previously expected.
Market behavior is interesting around this event: US 10 year yields rose by +5bps to 2.95% immediately, but there was no follow through. US bond yields came back afterwards and finish the week unchanged. A large part of negative newsflow is now behind us. What are the additional negative news for government bonds?
We think the short end of the curve is now at more neutral valuations, and recovers some potential for a rally in case of a market risk off event.
Concerning the Yen (JPY), figures published this week comforted our bullish view. The trade balance came out at 373bn JPY, above expectations with a strong increase of exports (+12.2% yoy)
Furthermore, investors are currently large short JPY positions vs the dollar: USD-13.5bn on futures, just as big as at the end of 2013, when Abenomics was the main market theme. Last, but not least, the Yen is very cheap, especially vs the dollar.
We keep our bullish equity view, and we are even more convinced since earnings season – which is close to its end – was again very good in the US (78% positive sales surprise, 76% positive EPS surprise).
More about:
La Française Allocation Share Class R
La Française Allocation Share Class I
La Française Allocation Share Class S
The information and material provided do not, by any means, represent advice, offers, solicitations or recommendations for investing in specific investments. All statements reflect the opinions of their authors at their publication date and do not constitute a contractual commitment on behalf of the management company. These assessments are subject to change without notice, within the prospectus' limitations, which is the only legally binding document. La Française Group declines liability in any form for any direct or indirect damage resulting from the use of this publication or the information that it contains. This publication may not be reproduced in full or in part, disseminated or distributed to any third party without the prior written consent of La Française Group.

La Française Allocation is a French UCITS in regards to the 2009/65/CE Directive. The Fund received AMF authorization on July 15th 2003 and was launched on July 31st 2003. The strategy changed as of July 19th 2012. Management company : La Française Asset Management – Paris – approved by the "Autorité des Marchés Financiers" under N GP97076 on July 1st, 1997.
For more information regarding the French regulatory authority - Autorité des Marchés Financiers (AMF) – please visit www.amf-france.org.www.amf-france.org.