The earnings season continues in the US and is positive as expected
This week, fixed income markets moved in the opposite direction to last week: US 10 years bond yield was up 10bps and German bund yield 5bps to 2.37% and 0.45% respectively. These moves can be explained by the following things: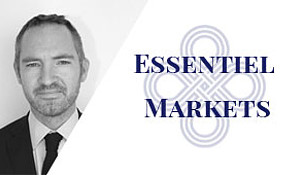 2018 US budget vote passed. This was a milestone to US fiscal reform implementation
Donald Trump and John Taylor meeting went well. Since the latter is considered as a hawk (see "Taylor rule"), it pushed bond yields higher
Rumors that ECB purchases would be capped at EUR 200bn for 2018, which would lean towards EUR 30bn a month for 6 months. That is below market expectations
Equity markets were flat last week, apart from Japan (+1.5%). This is explained by Japanese elections last Sunday, where Abe won (and can win a super majority). The monetary policy is therefore expected to remain stable.
Earnings season in the US with 78 firms reported among the S&P 500 (78% beat estimates, 9% are in line and 12% below, EPS are in average 1% above expectations). In short, it is a good season, as expected. At the moment, US equities are not particularly rallying.
A few words on NAFTA negotiations between Mexico, Canada and the US. Talks are tough, Trump said US partners must pay for their positive trade balance with the US (sic), which is obviously declined by Canada and Mexico. In short, they will meet at next negotiation round next month, we do not believe in a NAFTA breakup by the US.
Next Thursday we will have a major ECB meeting, with tapering announcement. We do not have a strong opinion on what will be decided.
More about:
La Française Allocation Share Class R
La Française Allocation Share Class I
La Française Allocation Share Class S
The information and material provided do not, by any means, represent advice, offers, solicitations or recommendations for investing in specific investments. All statements reflect the opinions of their authors at their publication date and do not constitute a contractual commitment on behalf of the management company. These assessments are subject to change without notice, within the prospectus' limitations, which is the only legally binding document. La Française Group declines liability in any form for any direct or indirect damage resulting from the use of this publication or the information that it contains. This publication may not be reproduced in full or in part, disseminated or distributed to any third party without the prior written consent of La Française Group.

La Française Allocation is a French UCITS in regards to the 2009/65/CE Directive. The Fund received AMF authorization on July 15th 2003 and was launched on July 31st 2003. The strategy changed as of July 19th 2012. Management company : La Française Asset Management – Paris – approved by the "Autorité des Marchés Financiers" under N GP97076 on July 1st, 1997.
For more information regarding the French regulatory authority - Autorité des Marchés Financiers (AMF) – please visit www.amf-france.org.www.amf-france.org.