The Biggest Balance Sheets
This document is directed at investment professionals and qualified investors (as defined by MiFID/FCA regulations).
Central bank balance sheet expansion has had huge effects on economies and markets. Will they swell or decline in coming years and what does that mean for investors?
Massive Monetary Expansion Supporting Valuations?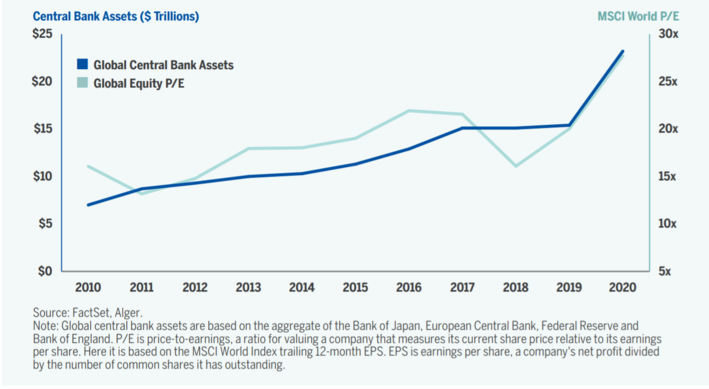 The balance sheets of the major developed central banks in the United States, European Union, Japan and England have swelled an unprecedented $8 trillion over the past year. This dramatic flood of money makes the $2 trillion expansion during the 2008 Global Financial Crisis look paltry.
While we believe multiple factors have driven equity P/E expansion, central bank balance sheet growth and its impact on liquidity and interest rates has played a significant role, in our view.
Fortunately for investors, central banks do not appear likely to tighten anytime soon, with Evercore ISI expecting a nearly $3 trillion expansion in global central bank balance sheets over the next year. We believe keeping the spigot of liquidity on should help support equity valuations.
Download Alger on The Money