Taking Off?
This document is directed at investment professionals and qualified investors (as defined by MiFID/FCA regulations).
One of the most depressed sectors of the global economy is travel and leisure. Fortunately, we believe the future looks brighter. As growth in this sector ramps up, what are potential opportunities for investments?
Worldwide Travel and Tourism Revenue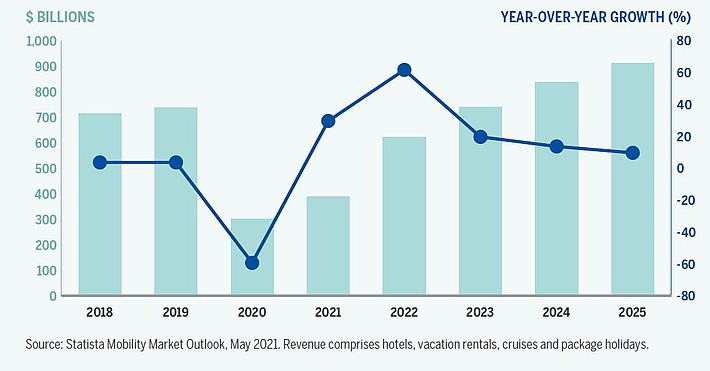 The pandemic drove travel and leisure spending down 60% in 2020. With the introduction of vaccines, spending is expected to rise 29% this year, with a more extensive recovery next year when the industry is expected to grow 61%.
While the entire industry may benefit in the short term, long-term winners will be differentiated by their positioning in the industry, in our view. Data from Booking.com suggests that the main source of vacation inspiration for the majority of people is searching online while only about one third find inspiration from talking to friends and family. Not only does planning begin online, but 65% of travel dollars are spent online with that share forecasted to rise to 72% by 2025, according to Statista.
We believe there may be opportunity where economic recovery overlaps with secular growth, such as in online travel booking companies for which the market is expected to rise from $518B in 2020 to $983B in 2027, according to ReportLinker. Additionally, casinos and low-cost airlines may benefit as well.
Download Alger On The Money