Strong disappointment on US inflation, which slows down significantly
The highlight of the week was the June FOMC meeting.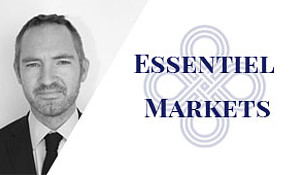 As expected, the Federal Reserve raised interest rates by a quarter point for the second time this year. Despite softer-than-expected inflation data, the Fed kept its path of policy rates essentially unchanged. Most of the FOMC members still forecast one more rate hike this year.
In the summary of economic projections (SEP), the Fed projected a tighter labor market over the forecast horizon, and a lower inflation forecast only in 2017. The Fed continues to see the recent inflation softness as transitory. Inflation should return to 2%. Dots remained unchanged.
The change in the reinvestment policy is likely to be announced at the September meeting. The balance sheet reduction could begin before year end, but should proceed at a moderate pace.
The tone of the meeting is viewed as slightly "hawkish". Core yields bounced back from lows and the dollar rebounded sharply. But, the likelihood of a December rate hike remains below 50%, markets don't believe the Fed and remain cautious. We continue to think that markets are too pessimistic on the economy. We keep our view short duration unchanged.
Otherwise, the Bank of Japan maintained its same monetary policy .
On the macro side, incoming data in the United States continued to disappoint. Retail sales in May were weaker than expected and dropped by -0.3% month over month but prior month was revised higher.
Inflation missed expectations and continues to disappoint in May. Headline CPI slowed significantly to +1.9% year over year from +2.2% previously. Core CPI was weaker than expected for the third month in a row at +1.7%, suggesting that inflation pressures are subdued.
In Europe, macro environment remains supportive. Industrial production rose in line with expectations (+0.5% month over month) mainly driven by the rebound in the energy sector. Eurozone May final CPI was released at +1.4% year over year, as expected.
In China, retail sales and industrial output remained resilient in May. Industrial output rose +6.5% from a year earlier. Retail sales increased +10.7% in line with expectations.
Equities markets and core yields fell slightly this week. Oil prices continued to drop as global inventories remained high.
Next week should be more quiet as central banks meetings are behind us.
We made a few changes in the portfolio this week:
We slightly increased our exposure on the Canadian dollar and initiated a short position on Canadian rates against US rates, following the hawkish comment from the governor of the Bank of Canada.
We bought Brazilian real (BRL) against the dollar.
On the UK, we continued to take some profits on our short Gilt position.
More about:
La Française Allocation Share Class R
La Française Allocation Share Class I
La Française Allocation Share Class S
The information and material provided do not, by any means, represent advice, offers, solicitations or recommendations for investing in specific investments. All statements reflect the opinions of their authors at their publication date and do not constitute a contractual commitment on behalf of the management company. These assessments are subject to change without notice, within the prospectus' limitations, which is the only legally binding document. La Française Group declines liability in any form for any direct or indirect damage resulting from the use of this publication or the information that it contains. This publication may not be reproduced in full or in part, disseminated or distributed to any third party without the prior written consent of La Française Group.

La Française Allocation is a French UCITS in regards to the 2009/65/CE Directive. The Fund received AMF authorization on July 15th 2003 and was launched on July 31st 2003. The strategy changed as of July 19th 2012. Management company : La Française Asset Management – Paris – approved by the "Autorité des Marchés Financiers" under N GP97076 on July 1st, 1997.
For more information regarding the French regulatory authority - Autorité des Marchés Financiers (AMF) – please visit www.amf-france.org.www.amf-france.org.