Streaming Changes the Game
This document is directed at investment professionals and qualified investors (as defined by MiFID/FCA regulations).
Streaming video products take multiple forms: short internet clips, subscription-based services, such as Netflix, traditional content providers and gaming software. Today approximately 200 streaming video services exist but the top four companies dominate the marketwith the number one provider garnering a 70% share of homes. In fact, many homeowners stream content from multiple sources.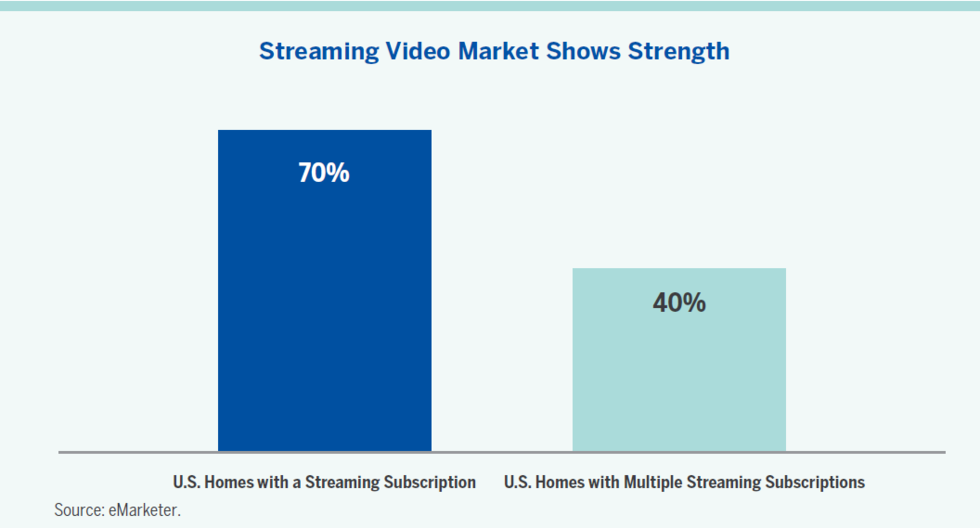 • 70% of U.S. homes have some sort of streaming subscription and 40% of homes utilize multiple streaming subscriptions. The average U.S. household has three streaming services and consumes 54 hours of content per month. Currently the top four video streaming providers are Netflix, Google, Amazon and Hulu.
• The emergence of streaming video technologies has been disruptive to the traditional media ecosystem but incredibly positive for the consumer. Rather than being tied to a traditional television on a regular weekly schedule, streaming video platforms enable consumers to watch the content they want, when they want it, on any device. As a result many people are eliminating their cable or traditional television services.
• The future appears bright for the leading streaming providers and their infrastructure partners (internet providers and telecom companies), which may present attractive investment opportunities.
Download Alger On the Money