Slightly below expectations, this figure should slow down tapering rumors
Much economic data was published this week :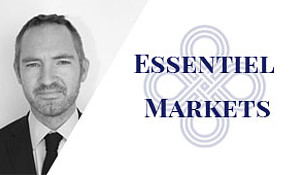 Robust set in the US with consumer confidence at 15y high and core PCE slightly above expectations.
German IFO as well above expectations but inflation on a very soft tone in Eurozone. This undershoot comes from Germany, Spain and Italy. Headline inflation was 1.5% vs 1.8% expected, and core inflation was 0.7%. This should reduce tapering rumors from European central bank. Regarding ECB, we must as well mention a rumor this week that ECB considers Mario Draghi's speech was ill-understood by investors. This was taken as a dovish surprise by fixed income markets.
Chinese PMI was comforting, once more.
All in all, even if movements this week have been shallow, data was dollar positive and euro negative
We ought to say as well that oil inventories were lower than expected, and consequently the barrel surged. In the meantime, Organization of the Petroleum Exporting Countries discussions seem to be constructive, which makes us think that the deal could be extended.
Last, Theresa May officially triggered article 50. Now starts a long period of negotiations. Some of our trades will probably be more volatile but we think we are well compensated for it.
Kinds Regards.
More about:
La Française Allocation Share Class R
La Française Allocation Share Class I
La Française Allocation Share Class S
The information and material provided do not, by any means, represent advice, offers, solicitations or recommendations for investing in specific investments. All statements reflect the opinions of their authors at their publication date and do not constitute a contractual commitment on behalf of the management company. These assessments are subject to change without notice, within the prospectus' limitations, which is the only legally binding document. La Française Group declines liability in any form for any direct or indirect damage resulting from the use of this publication or the information that it contains. This publication may not be reproduced in full or in part, disseminated or distributed to any third party without the prior written consent of La Française Group.

La Française Allocation is a French UCITS in regards to the 2009/65/CE Directive. The Fund received AMF authorization on July 15th 2003 and was launched on July 31st 2003. The strategy changed as of July 19th 2012. Management company : La Française Asset Management – Paris – approved by the "Autorité des Marchés Financiers" under N GP97076 on July 1st, 1997.
For more information regarding the French regulatory authority - Autorité des Marchés Financiers (AMF) – please visit www.amf-france.org.www.amf-france.org.