Robust Q3 GDP growth for the US, boosted by strong exports
We had a busy week ending with long expected US Q3 GDP. But before commenting this figure, let us come back on core fixed income markets which have sold off this week.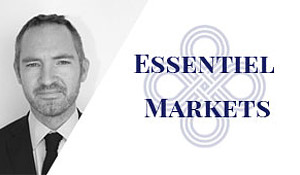 The collapse has been ignited by a better UK GDP report. This move was then maintained by the European central bank's president saying that negative rates for a long period of time are is not advisable. Core rates have moved up 15 to 20bps this week and almost 30bps MTD.
Economic data has been decent this week: good Euro Area PMI, US PMI accelerating and to finish with, US Q3 GDP at 2.9% vs 2.6% expected. The breakdown was rather comforting even if consumption contribution slowed down. These reports have of course helped as well fixed income markets to drop.
US earnings season is now half way through, until now the
275/500 firms have reported in S&P 500
75% are above, 6% in line and 19% below expectations. That's better than usual
YoY growth is +3% vs -1% expected before the season
The question everyone is asking is where does this fixed income correction stops? To our eyes it is probably close to the end, at least for the next few weeks:
The move was violent, sustained by systematic models deleveraging: markets are now clearly oversold, and our contrarian bias pushes us to like this kind of positions
Investors are not heavily invested in core fixed income. They are very long credit, but for many weeks they have increased their cash holdings vs govies.
We do not believe in an ECB tapering and think QE will be extended. Sure thing, inflation will rise through base effects in the coming months but remaining below ECB target.
La Française's Essentiel Markets brings you an insightful analysis of the latest financial news by François Rimeu, Head of Total Return at La Française Asset Management.