Pre Fed Commentary by François Rimeu
For the first time, the Federal Reserve will hold a press conference without having an update of the Summary of Economic Projections.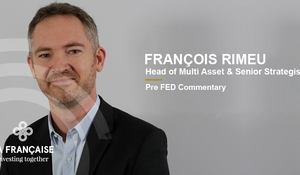 Mr. Powell will face a real communications challenge considering recent financial market turmoil, the lack of updated information following the shutdown and speculation about the future of balance sheet reduction after dovish communication from FOMC members in January. Here is what our thoughts are:
We think Mr Powell will want to buy time and thus will have a message of patience.
We do not expect any formal announcements on the balance sheet but Mr. Powell should reiterate his comments about the Fed being flexible if needed.
The risks associated with the economic outlook should be described as roughly balanced, meaning no change since December meeting.
Rate guidance will be very challenging and we think the aim will be to signal a pause but not a stop in the hiking cycle. Previous statements mentioned "some further gradual increases" would be appropriate, we expect a dovish shift here with a more data dependent approach. We doubt the Fed is ready to abandon its plan for potential further hikes later this year.
Overall, the tone will be dovish but maybe not enough so given the market's current mindset.