Post Fed Commentary by François Rimeu
The FOMC went beyond what public speakers had originally announced. The FOMC will now adopt a more dovish stance.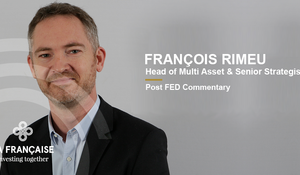 Please find below a summary of their decisions:

• They removed mention of "further gradual increases" regarding interest rates, they are now "on hold". This was expected even if the complete removal of the tightening bias is a surprise.

• The base case regarding the US economy remains positive but downside risks have increased. Again, this was expected.
• The major surprise came on balance sheet policy guidance, with a separate statement:
• The committee confirmed they will continue to use its "floor system" rather than its previous "corridor system". This signals an earlier end to balance sheet reduction and at a higher level than previously planned.
• The committee indicated the current pace of balance sheet normalization could be adjusted "in light of economic and financial developments" vs previously "material deterioration in the economic outlook". The bar has been lowered.

The press conference was also on the dovish side with Mr. Powell moving away from a tightening bias and saying the next move could just as easily be either a rate cut or hike.

Going forward, it seems that Core PCE will have to surprise on the upside and reach at least 2% for the Fed to hike rates again.