Podcast: Ringing in the eCommerce Holiday Season!
This content is for professional investors only as defined by the MiFID.
All of the ecommerce companies are at max capacity. I also think we'll see the holiday shopping period elongated. Senior Analyst Ben Reynolds gives an update on what investors might expect from ecommerce companies during a very busy holiday season.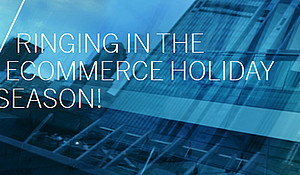 ALEX BERNSTEIN: Hello, I'm Alex Bernstein and you're listening to The Alger Podcast, Investing in Growth and Change. Alger Senior Analyst Ben Reynolds was one of the first people I interviewed way back in March of this year, when the Covid crisis had just started. Ben, who covers the tech sector, is usually extremely upbeat. But at that time – with the unprecedented market turbulation – he told me he felt like he was working out of a foxhole under heavy fire. Well, here to catch up with me and give me an update on the tech sector, some eight months later, is Ben Reynolds. Ben, thanks so much for talking with me this afternoon.

BEN REYNOLDS: Thanks, Alex. Thanks for having me back on.
ALEX: So, Ben, the last time we talked was right at the beginning of the crisis with –
BEN: Just twenty minutes of me sobbing, right?
ALEX: Not quite! But just going back to that foxhole analogy. How do you feel now some eight months later?
BEN: I still feel like I'm in a foxhole, maybe not being shot at as much in relation to COVID, still feel like my companies are being shot at by various government regulatory agencies. But, look, it's been constant change all year. I mean if we walk through it, since the start of COVID, there was effectively indiscriminate selling. It didn't matter what the company was, it didn't matter what industry. It didn't really matter, it was just sell it, sell it now, and by the way, if they don't make money, or have negative free cash flows, sell even further because there's a chance it could go out of business.
I think after about a month of that, people poked their heads up and said okay, let's think about who's actually going to survive and who's actually possibly going to thrive in this new world and that's when you started to see the e-commerce companies, the streaming companies, the companies like that rebound much more quickly than some of the other stocks. From the tech side, you saw certain software companies and teleconference companies do the exact same. But everything was sold at first. And then you had the winners get picked.
And now, as we're getting news of vaccines and it's sort of a focus back to old economy stuff, we have to be as nimble as possible without losing our growth focus and try to pick the winners that are going to continue to succeed in a post COVID world.
ALEX: It seems like the e-commerce sector was one of the beneficiaries of the crisis? What happened to that sector this year?
BEN: So, if you go back just to the beginning of the year, so call it January or February before there were any known cases of COVID in the United States. The economy was actually roaring, and e-commerce was performing well. Pretty much all my companies, be it e-commerce, or digital advertising, everybody had had a great two months.
But when the crisis happened, you saw initially a panic of a couple of weeks, people not really knowing what to do, and then just this seismic behavior shift from going to stores to purchasing things online. And so much to the point where many of the bigger e-commerce firms couldn't even fulfill all the demand at the end of March and beginning all the way through April, really. You had such a large shift of demand and then partially, that was because for a while, in many states, all the stores were closed, right. You literally couldn't, besides a grocery store, you couldn't go somewhere to buy something. So, things like home furnishings and staples, clothing, et cetera, it all shifted online once people decided they were going to start buying things.
You also had stimulus checks come in, really before most of the economy is reopened. So, you had this influx of money, really only a few places to spend it, and so we saw this massive spike in e-commerce from about 15 percent growth in the first quarter to 44 percent in the second quarter. And that number would have been higher had these e-commerce companies been prepared for such a spike.
And then what we saw after that is really the trend is largely sustained. You obviously had some purchasing, like stocking up behavior right at the beginning of COVID. But after that, you had really just a strong maintenance of the overall e-commerce growth and it shifted to other categories, so not just food and toiletries, but it went toward clothing, home goods were especially strong with people staying at home and deciding they were going to redecorate or spruce things up, home electronics, all sorts of things like that, really pretty much every category actually saw increasing growth coming out of Q2.
And that's largely sustained; there's been a few things that have slowed growth. There was no prime day in July this year, but basically the overall trends have basically maintained even through now, and then we've noticed most recently, in November, with this most recent surge, e-commerce growth has actually ticked up again, headed into the holiday season. So really, I mean, for a crisis like this, we think it's really the perfect industry to be in, for better or for worst.
ALEX: So, you're expecting a strong holiday season for e-commerce?
BEN: So, for the holiday season for e-commerce, I think it's going to be extremely strong. I think we have a couple of things, several things in its favor and maybe one thing going against it. But you have the typical secular trend, right, which is just a shift towards e-commerce in all facets. And that's usually about a point of share it takes a year.
On top of that, this year, of course, we still have COVID, with rising cases right now, people less likely to go into stores, so that's been a tailwind. And we've got a third tailwind here that theoretically could reduce maybe overall gift giving but should actually significantly increase e-commerce gift giving. And that is the fact that few people are going to travel out of state or out of their city to do holiday gathering.
Most years, a lot of people will travel to go visit their parents or their kids or whatnot, and you give your gift giving in person. Now, you may have purchased that gift online or not, but you may not have. In this case, where people are going to be not traveling to see each other as much as they did in prior years, you basically have to mail a gift if you're going to give one. And yes, you could go to the store and buy a gift and then take it to the mailbox, but it's much easier to go on a website, buy it, and have it delivered directly to your parents or your kids or whatnot. So, I think that's going to be an extra tailwind for holiday gift giving.
I also think we'll see the holiday shopping period elongated. It's really already started. It really started back with prime day in October and it's continued and you're seeing deals across pretty much every e-commerce site right now going straight into the holidays. So, I think we'll see a really strong October, November, the actual holiday period, Black Friday, Cyber Monday period might look a little bit weaker just because people bought their gifts earlier this year.
I think one thing that could hamper the growth is just literally the network and logistics capability of all the carriers. That could create a problem that people just can't get their packages delivered in time, but I really think that's the only issue e-commerce is going to have to slow it down. So, I actually think e-commerce growth could be faster in Q4 than it was in Q3.
ALEX: You don't think they're all ramping up their delivery services now?
BEN: Oh, they absolutely are. I mean, everybody is at max capacity. You'll see some of the major carriers in uniform, so you know who they are, but they're in a non-labeled truck because they've rented it from U-Haul or somebody. You're already seeing that. So, they're absolutely ramping it up, but there's only so many people and only so many trucks. And these companies don't build, they don't build their infrastructure five years out, they try to build it as they need it to go. So, there could be a problem.
So far, I've noticed some shipping delays, but nothing egregious. We'll have to see how it plays out
ALEX: Within e-commerce, online grocery sales seem to have surged this year. How did that come about?
BEN: Yes. So, one of the tailwinds e-commerce has that I think extends the growth into next year, is just the massive ramping in grocery this year. We believe that online groceries of both delivery and pickup curbside is maintaining triple digit growth essentially since the start of COVID. It bounces around. It's slowed a little bit, but definitely over 100 percent growth this year.
And I think it's a real sea change. It took the powers that be a decade to get penetration of grocery in an online manner up to just low single digits. And now we're just seeing an explosion, because obviously, people are afraid to go to stores. Here's the thing though. I don't think people's behavior on this reverts back next year. I think once they're used to getting their groceries delivered or picking it up outside, I think that behavior sticks. They'll get used to the produce may not being exactly what you wanted to pick, but I don't think this changes. I think this is a sea change and this is the catalyst really to push grocery penetration, which again, was low single digits into similar penetration as the rest of e-commerce.
ALEX: Ben, with some potential vaccines now on the horizon, investors are beginning to consider life beyond Covid. In your sector, who do think might start to accelerate first?
BEN: So, a couple of trends as we start to come out of this. One I think is about to happen, and that's I think is actually set up pretty well, is cloud computing.
But we believe that coming out of this all the companies are going to have to maintain a larger digital presence, they're going to have to maintain a more remote work presence and they're going to have to shift towards the cloud, because it's more scalable, you can scale it up, you can scale it down. It's your fixed costs. These are things that in the COVID world, a lot of companies would like to have. And so, I think that cloud computing is actually set to accelerate here in the next few quarters because as the new companies come back online, it's effectively going to accelerate their shift to the cloud. So, I think that's going to be a pretty big beneficiary in the coming quarters.
Secondly, most of the companies in my space that aren't event based did pretty well. But obviously online travel agents and the ride share companies were hit really hard. I think as we head into next year, obviously, there'll be lapping the declines, but I think those companies should start to see their fundamentals regain. And I think in the case of ride sharing, I think they'll actually see pretty strong growth and probably come back before the online travel agents as far as the fundamentals go.
As we come out of this, you are going to start to see more mobility, but I think people will be a little shy on returning to mass transit, so I think you'll be seeing a bigger adoption of ride sharing in bikes and scooters and that sort of thing.

ALEX: Ben, outside of work, how have you been keeping sane this past year? Have you been doing deep meditation or –
BEN: Well, so I haven't been keeping sane, so let's just forget about that one. But no, I mean keeping things to very small groups or no, just the family unit. That's been a lot of it in the Reynolds household.
ALEX: Ben, thanks so much for talking with me this afternoon.
BEN: Thanks, Alex. It's been great talking to you.
And thank you for listening. For more Alger Insights, please visit www.alger.com.
The views expressed are the views of Fred Alger Management, LLC ("FAM") and its affiliates as of December 2020. These views are subject to change at any time and may not represent the views of all portfolio management teams. These views should not be interpreted as a guarantee of the future performance of the markets, any security or any funds managed by FAM. These views are not meant to provide investment advice and should not be considered a recommendation to purchase or sell securities.
Risk Disclosures: Investing in the stock market involves risks, including the potential loss of principal. Growth stocks may be more volatile than other stocks as their prices tend to be higher in relation to their companies' earnings and may be more sensitive to market, political and economic developments. Technology companies may be significantly affected by competition, innovation, regulation, and product obsolescence, and may be more volatile than the securities of other companies. Please visit www.alger.com for additional risk disclosures. Past performance is not indicative of future performance. Investors whose reference currency differs from that in which the underlying assets are invested may be subject to exchange rate movements that alter the value of their investments.