On the equity side, "the threat of protectionism" and "the volatility of the financial market"
As the first signs of summer arrived, we adopted a tacitly watchful – and fundamentally positive – attitude. Two months ave now gone by and we can see new clouds on the horizon. The European Central Bank, in its monetary policy statement, has identified two major risks: "The threat of protectionism" and "financial market volatility"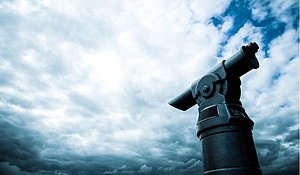 On a macroeconomic level, indicators continued to decline in most of the world's regions.
Particularly in Europe, France had to lower its GDP growth forecast by 0.3pt in 2018 and 0.2pt
in 2019, and Germany saw a decline in its manufacturing orders.
"The threat of protectionism"
The first round of the trade war is now in the books, with the second portion impacting
$50 billion in imports just now taking effect. This brings total taxed bilateral trade to
$190 billion. The second round could be much bigger, with $260 billion in goods affected.
Finally, even though the spectre of taxation on automotive goods seems to be receding, it
could involve $360 billion in US imports. This tug-of-war between the US and its trade partners
is impacting business confidence, and business investment has dropped off noticeably
since the beginning of this trade war.
The political risk or "financial market volatility"
For the ECB, Italy still casts the biggest shadow. Aside from the structural problems of the
Italian economy, the rise to power of a Eurosceptic coalition is helping to destabilise the
eurozone. While the first version of the 2019 European budget is due by 27 September, Salvini
is arguing for more fiscal largesse in hopes of increasing social spending, cutting taxes, and
funding major infrastructure projects. These claims are putting pressure on Italian debt - not
to mention that of the entire eurozone.
Performance gap between the US and European markets
Although the dollar has appreciated since the start of the year, the S&P500 outperformed
the Stoxx Europe 600 by more than 13 points (expressed in EUR). The comparison is even
more blatant against the emerging markets. Now more than ever, the US market seems to
be a safe haven for investors.
Europe is still attractive, with a valuation at 13.7x 12-month forward earnings, compared to
a five-year average of 14.5x. The United States is at 17x compared to a historical average of