Neutral tone, not much to expect
Here is what to expect at next ECB press conference on Wednesday: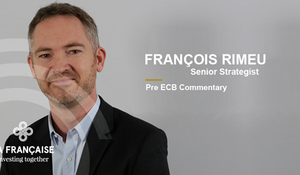 M Draghi will likely re-emphasize that the slowdown is expected to be temporary, though risks remain skewed to the downside.
He will most likely also mention that the inflation outlook has not changed significantly, but he should remain cautious.
The ECB is not expected to announce the modalities of the new TLTRO.
During the Q&A session, questions about a tiered deposit rate are likely to come; we do not expect any formal announcement on this subject beyond the comments provided recently by Peter Praet.
Overall a neutral tone, with no significant market impact.