Markets remain quiet facing this positive figure, still waiting for visibility on the US politics.
It's been a quiet week on the macroeconomic side but with some interesting figures concerning the UK: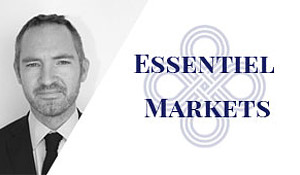 Inflation data have surprised positively with core inflation at 2%, a 3-years high, and headline inflation at 3.2%
Retails sales came above consensus, at 4% growth YoY
Everything is still going fine in the UK. Despite those numbers (and hawkish ECB commentaries last week), markets have been moving sideline. For the first time since the Brexit, some investment banks are starting to advise buying GBP vs EUR and USD (Morgan Stanley and Barclays).

PMI in the Eurozone have also been released with very strong numbers (PMI Composite at 56.7), highest since 2011. Again, almost no reaction on the markets.

This lack of reaction can be explained by the vote on the Healthcare reform going on in the US. This bill has to be voted by the congress before any work on fiscal measures and infrastructure spending. Considering how strong expectations have been since the election of Mr Trump, markets may be disappointed if those reforms are delayed.