Macroeconomics data confirm that US economy is doing well
A few things caught our eyes this week :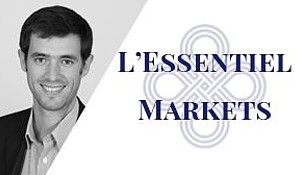 Oil inventories released Tuesday were well below expectations. Crude oil is up +8.4% on the week, and this pushed US bond yields higher


US economy data with the Q2 GDP release, which was long expected. It rebounded to +2.6% vs +2.7% expected. We have confirmation that Q1 weakness was temporary. US economy is still performing well. The negative point was the Employment Cost Index which continues to grow at a very slow pace. Wage growth, the main inflation driver, is still missing


As expected, Fed kept its rate unchanged on Wednesday night, the accompanying statement was perceived as dovish by investors


Eurozone inflation data surprised on the upside. Germany, in particular, is up +1.7% year over year. Nevertheless, German bond yields are up only a mere +2bps on the week


Last but not least, corporate earnings were decent on average. 57% positive surprises in Europe, 77% in the US. That helped the S&P to a new all-time high
Our convictions remain unchanged. We continue to think US bond yields are too low and markets should anticipate more Fed hikes. We therefore remain bullish on the dollar.
Our view is right, US 10-yr yields are +6bps vs +2bps for bunds this week.
We remain bullish on Euro equities and Emerging markets. These two areas exhibit solid macro performance and we think they should continue to attract inflows.
More about:
La Française Allocation Share Class R
La Française Allocation Share Class I
La Française Allocation Share Class S
The information and material provided do not, by any means, represent advice, offers, solicitations or recommendations for investing in specific investments. All statements reflect the opinions of their authors at their publication date and do not constitute a contractual commitment on behalf of the management company. These assessments are subject to change without notice, within the prospectus' limitations, which is the only legally binding document. La Française Group declines liability in any form for any direct or indirect damage resulting from the use of this publication or the information that it contains. This publication may not be reproduced in full or in part, disseminated or distributed to any third party without the prior written consent of La Française Group.

La Française Allocation is a French UCITS in regards to the 2009/65/CE Directive. The Fund received AMF authorization on July 15th 2003 and was launched on July 31st 2003. The strategy changed as of July 19th 2012. Management company : La Française Asset Management – Paris – approved by the "Autorité des Marchés Financiers" under N GP97076 on July 1st, 1997.
For more information regarding the French regulatory authority - Autorité des Marchés Financiers (AMF) – please visit www.amf-france.org.www.amf-france.org.