Looking good at 100
This week marks the 100th edition of Alger On the Money, a program that strives to offer valuable insights and education to our clients. In honor of this milestone, we look back on a century of U.S. earnings growth and the stock market returns it has driven.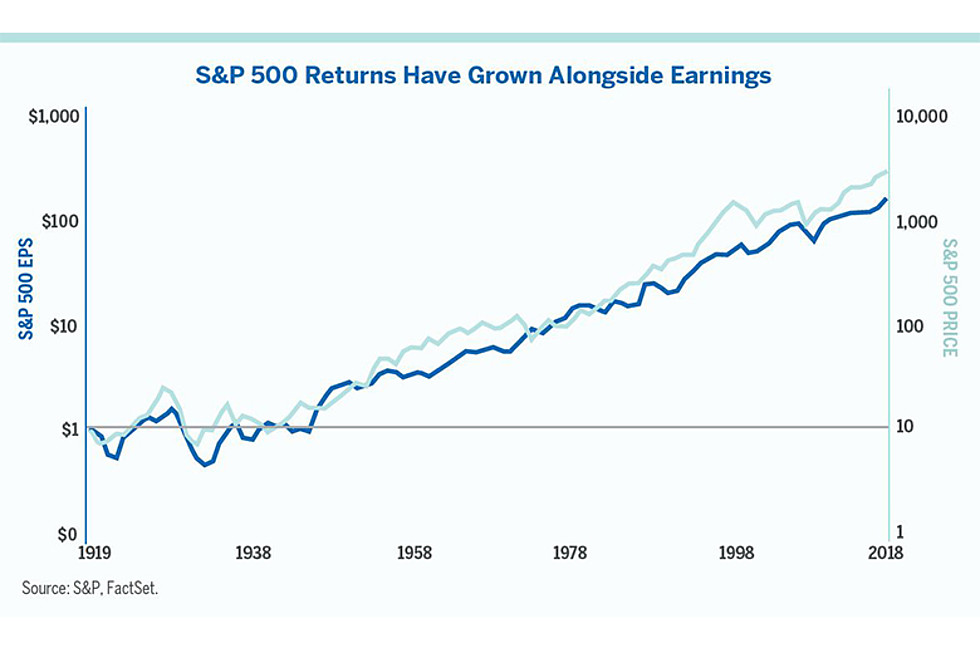 • At Alger we are fond of Benjamin Graham's remark, "In the short run, the market is a voting machine but in the long run, it is a weighing machine." In the chart above, the U.S. stock market has clearly weighed earnings by increasing in value right alongside earnings per share (EPS) over the past 100 years.
• The S&P 500 has returned approximately 10% annually over the past century. An investment of $1,000 in at the beginning of 1918 would be worth more than $20,000,000 as of the end of 2017. The question investors are asking today is what should they expect in the future? Alger considers starting P/E ratios to be the best predictor of equity market returns (see Alger On the Money "The Single Greatest Predictor of Future Stock Market Returns"), and if historical correlations between starting valuation and 10-year returns continues in the future, we estimate that annual S&P 500 returns for the next ten years would be approximately 7%, attractive relative to our view of prospective fixed income returns.
• Thank you for reading our weekly commentary; we hope you find it beneficial. Here is to the next 100 years of strong earnings and interesting, new editions of Alger On the Money.
Download Alger On The Money