Leading Indicator Soars
This document is directed at investment professionals and qualified investors (as defined by MiFID/FCA regulations)
With large amounts of stimulus and expectations for the pandemic to recede, leading indicators of economic growth are improving. What does that mean for corporate earnings and the stock market?
ISM Manufacturing Augurs Significant Economic Growth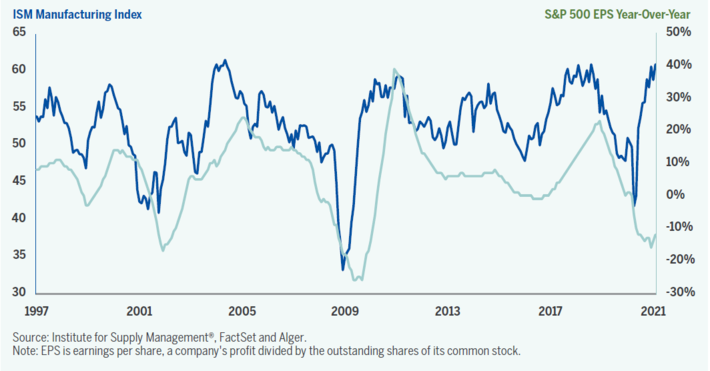 The ISM Manufacturing Index is considered by many to be one of the best metrics to forecast economic growth. It is based on a survey of U.S. purchasing and supply executives and a reading above 50 indicates that the economy is generally expanding with higher numbers indicating faster growth.
Recently, the ISM Index hit its highest level in over 16 years with respondents indicating that manufacturing needed to accelerate. One respondent said, "A sense of urgency is being felt regarding new orders" and another commented "Supply chains are depleted."
Historically, there has been about an 80% correlation between the ISM Manufacturing Index and the S&P 500 earnings per share (EPS) year-over-year change. The index has led changes in earnings by about seven months and we believe its recent elevated level may imply 20%-40% growth in S&P 500 EPS to as much as $200 per share, potentially providing support for the stock market.
Download Alger on The Money