La Française strengthens its equities team
As part of the development of its SRI equities range, La Française has strengthened its investment management team by hiring Nina Lagron as Senior Portfolio Manager reporting to the CIO Equities, Laurent Jacquier-Laforge.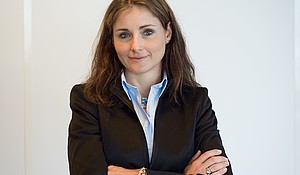 Nina is tri-lingual and comes to the group with more than twenty years' experience in financial markets. She is a recognised expert in emerging market equities investments. Laurent Jacquier-Laforge, CIO Equities, said, "She will be a major asset who will help La Française achieve its ambitions in responsible equities investments while also broadening its global management capabilities, particularly with respect to the Zero Carbon investment strategy."
Before joining La Française, Nina Lagron held various positions: emerging equities manager at Amundi for more than seven years looking after the Europe, Middle East and Africa regions. She was the first woman to run an equities fund investing solely in the Middle East, primarily in Saudi Arabia. Nina then moved on to co-manage the GemEquity fund at Gemway Assets for more than two years.
She has a Masters in Management and a postgraduate degree in Finance from the Université Paris IX - Dauphine. She is also a Chartered Financial Analyst.