La Française sponsors the Trend & Morningstar Investment Summit on february 28, 2018
La Française organize an afternoon conference in Brussels on february 28, 2018.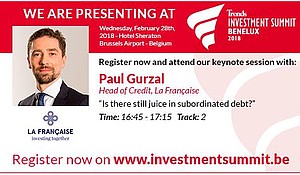 Paul Gurzal, Head of Credit at La Française AM, will present "is there still juice in Subordinated debt ?"
Given the strong performance of the asset class, is there still juice left in subordinated debt? In the wake of recent Italian an Spanish bank resolutions, investors are attentive to potential sources of risk that could disrupt the asset class. How will the subordinated space react to ever evolving regulations, challenging profitability, etc...
Practical information:
Date: February 28, 2018
Time: 16:45 to 17:15
Place: Hotel Sheraton Brussels Airport, Room 2 - Brussels National Airport, 1930 Brussels