La Française sources eighth European office property on behalf of South Korean investors
La Française, acting on behalf of a collective real estate investment vehicle, and South Korean investors, advised by Korea Investment Management (KIM), have co-invested in a Luxembourg company named DELO 1, owning c.a. 31,000 m2 office building, sourced off-market and named D. Square.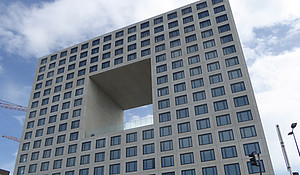 This office building is in the final stages of completion and is located bd. Kockelscheuer, just south of the central business district of Luxembourg. Luxembourg, as one of the three official capitals of the European Union, is an attractive location and demand is on the rise with major financial institutions having started or signaled the start of new operations in Luxembourg as a result of Brexit.

This office building, a high specification office development with a landmark design, is in Cloche d'Or and forms part of a master planned mixed-use development that is in close vicinity to motorway links to Belgium, Germany and France. The masterplan provides a shopping center, international school, residential apartments, greenspace and a sports stadium. The construction of a tramway system and a new railway will further enhance its connectivity to all major office districts and city suburbs.
The seventeen-storey office building which includes ca. 29 900 m2 of office space, ca 1,400 m2 of archives, 235 parking spaces, staff restaurants, training facilities and an auditorium, was
designed by two prominent Luxembourg architects. The asset, built to Grade A standard and set to achieve a BREEAM "Very Good" rating, is fully let, under a fifteen-year long term lease,
to a single tenant, one of the top four auditing and consulting firms worldwide.

David Rendall, Chief Executive Officer of La Française Real Estate Partners International commented," This is the eighth European real estate investment sourced on behalf of South
Korean Investors and the first in Luxembourg. Thanks to our international real estate investment platform with investment centers in Paris, Frankfurt and London and business development experts in Seoul, La Française has completed over €2 billion of investments across five European countries (UK, France, Germany, Belgium and Luxembourg)."

Shawna Yang, Director of Real Estate Investor Relations for Asia concluded, "La Française is building bridges, bringing Asian investors and the European real estate market closer together.
Our mission is to successfully source quality assets that meet and exceed local investors' diversification requirements. In the case of D.Square, the interests of our South Korean partners are aligned with the growth prospects, in terms of expected rents and capital values, of the Luxembourg real estate market."

La Française and its Korean investors were advised by PwC and Dentons. The financing for the transaction was provided by the German Landesbank Helaba acting as Arranger, Lender, Facility and Security Agent.
Download the press release