La Française Real Estate Partners International Secures Landmark Transaction in Brussels
La Française Real Estate Partners International, representing a club of Korean and French investors, has acquired the 60% interest of Belfius in the joint venture with AG Real Estate owning the Belgian headquarters of ENGIE.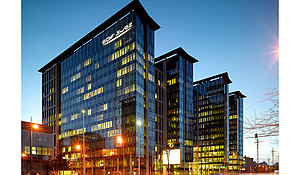 AG Real Estate will continue to manage the asset on behalf of the joint owners. The financing for the transaction is provided by the German Landesbank Helaba.
The asset comprises two buildings, North Light and Pole Star, located in the North Station area of Brussels. Together, the properties make up a high quality "green" office complex of 77,000 m² constructed in 2011 and 2014. The asset is fully leased to ENGIE on leases with unexpired terms of approximately 13 years. The buildings have a number of sustainability features, including optimized geothermal energy, geothermal heating and cooling, solar panels, and a sophisticated climate control system, which have enabled the newest tower of the complex, Pole Star, to achieve a Breeam "Very Good" rating.
The North Station area is experiencing a renaissance, with an influx of new public and private occupiers that include the Flemish Government, Allianz, Beobank, Accenture and Publicis One. The area is benefiting from the consolidation of business activities from smaller offices to larger new developments, and the best public transport connections in the Belgian capital. Real estate investment capital is also flowing into the area with recent significant transactions.