La Francaise Real Estate Managers and Altarea sign partnership to meet growing demand for new rental housing
La Française Real Estate Managers (REM), a real estate management company with nearly €28 billion under management, including more than 50% on behalf of French and international institutional investors, has entered into a partnership agreement with ALTAREA for the sourcing of a large volume of residential rental assets located in France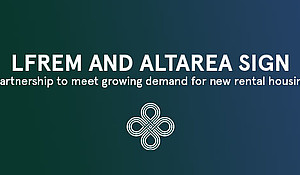 The agreement covers 600 housing units per year over two years, including 200 vacant housing units and five managed residences.
This second partnership signed in 2021 confirms La Française REM's ambition to accelerate its development in the residential rental property market.
The proposed projects will have to meet strict specifications including the following criteria:
To be residential assets in the broadest sense such as housing, student residences, senior housing and co-living assets.
Comply with La Française's new Construction charter which sets minimum environmental and social standards, particularly in terms of energy and environmental performance, preservation of resources and integration of projects within the surrounding area.
Be located primarily in Île-de-France and in large regional cities.
Philippe Depoux, Chairman of La Française Real Estate Managers commented, "Residential real estate fits perfectly into a strategy of diversification. Residential property generally offers less volatility than the tertiary sector and is very resilient in terms of rental income. Residential real estate can generate attractive returns in our low interest rate environment. In order to meet the growing demand from institutional investors, we naturally approached ALTAREA, a long-term partner of the La Francaise Group to meet the challenges of transforming urban areas. This partnership agreement is a pledge of quality and testifies to our mutual trust".
Jacques Ehrmann, Managing Director of the ALTAREA group stated, "We are witnessing a new wave of interest from institutional investors in residential real estate in France. It is a sign of the confidence they have in this asset class which offers favourable long-term return prospects while responding to market demand and occupier needs. This partnership with La Française is part of our overall strategy of selling residential property to institutional investors, by offering - through all of our residential development brands - quality products that integrate environmental requirements and new usage patterns."
Download the press release