La Française announces closing of Veritas Group acquisition
La Française, a multi-expertise asset management firm with total assets under management in excess of €65 billion, is pleased to announce that the acquisition of Veritas Group has been approved by the German Federal Financial Supervisory Authority (BaFin). In Europe, La Française now has investment teams located in Frankfurt and Hamburg - in addition to Paris - that provide securities and real estate asset management services. Veritas Investment GmbH, as a fully integrated entity of La Française, is rebranded La Française Asset Management GmbH, and Veritas Institutional, as an affiliate of the group, maintains its current identity.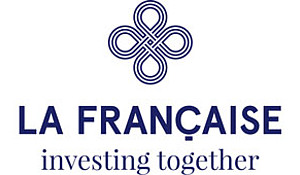 "With this acquisition we have reached a turning point. Today, La Française has two domestic markets, France and Germany, the latter represents close to €8 billion in assets (as at 31/12/18) and 12% of total group assets under management," says Patrick Rivière, Managing Director of La Française.
In Germany, La Française now has 48 professionals (portfolio management, real estate investment, back-office, administration, client services, communication, marketing and sales) and three investment centers servicing three market segments:
La Française AM (formerly Veritas Investment), based in Frankfurt: quantitative equities, listed real estate & infrastructure investments for retail investors;
Veritas Institutional, based in Hamburg: quantitative multi-asset investment solutions, that integrate Risk@Work, for institutional investors;
La Française Real Estate Partners International, based in Frankfurt: a full real estate investment management offer
The group's product line has been enhanced with 11 additional securities funds.
"La Française now has three asset management centers in Germany. The new quantitative investment capabilities of the Hamburg and Frankfurt based investment teams complement well our existing range of investment solutions and will be made accessible to investors worldwide," emphasizes Patrick Rivière, Managing Director of La Française.
The Risk@Work method developed by the investment team in Hamburg will play a particularly important role with the institutional client segment. The innovative risk management tool enables institutional clients to control and manage risk more efficiently in times of falling markets. "We are observing a growing demand from international clients to manage the portfolio risk efficiently and reliably. With the Risk@Work method we can now offer an innovative solutions that can enable institutional investors across Europe to benefit from lower capital requirements," concludes Patrick Rivière, Managing Director of La Française.
In addition, La Française, the 21st largest real estate asset manager in Europe (Source: Institutional Real Estate, Inc., Global Investment Managers 2018, August 2018), offers a wide range of real estate investment solutions to investors across the globe. With its Frankfurt based team of 12, La Française has been active on the German real estate market since 2015.
Download the press release