La Française acquires off-market fulfillment centre in North Rhine Westphalia on behalf of South Korean investors
La Française acting on behalf of Samsung Securities and KB Securities has completed the acquisition of a c. 150,000 sqm modern and purpose-built e-commerce fulfillment centre located in Rheindahlen, Monchengladbach in the Rhine Ruhr region of Germany.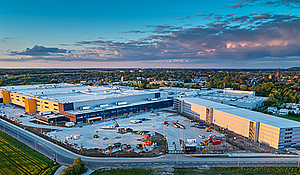 The property benefits from a long term lease to Amazon and represents one of their largest and most technologically advanced fulfillment centres in Europe. The property combines robotic technology with the skills of more than 1,000 strong workforce.

Located in an economically vibrant region of Germany and at the heart of European logistics network, the property consists of logistics facilities across 3 floors, office space, training centre and canteen areas alongside a dedicated car park building of more than 1,000 spaces and 180 trailer bays. The construction was completed in July 2019.

The property was acquired in a share deal on an off-market basis from the developer, Ixocon Immobilien GmbH & Co. KG. This acquisition represents the first logistics investment concluded by La Française on behalf of South Korean investors. For Samsung Securities, this is the third collaboration with La Française following the acquisition of the Belgian headquarters of a leading renewable energy supplier in Brussels (North Light and Pole Star assets) and the recently announced €691 million acquisition of the Crystal Park office campus located in Paris.