It may appear low but the GDP reaches +2.4% when removing the inventory effect
For many of us holidays are over, but not for financial markets.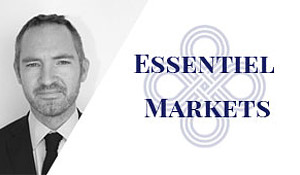 Summer has been quiet, very quiet, even sleepy after markets recovered from their post Brexit slump. Crude oil is back to its 2016 highest level, and income type assets are increasingly popular. All have tightened with investors desperately looking for yield.Some economic data came up this week: Euro PMI was decent, solid US real estate and durable goods orders and a slightly weaker US Q2 GDP revision (10bps below consensus). Janet Yellen, the Chairman of the Fed, is currently speaking and seems slightly more hawkish this time.
What is the macro backdrop today?
Decent macroeconomic data
Nobody mentions Brexit anymore (and so far UK data is far from being ugly)
Central banks are all accommodative
Bond yields are very low
Everyone is looking for yield with strong inflows into HY / EM and the like
US and EM equities rally
Volatility is low
Liquidity is tight
This backdrop can last longer: as long as inflation signs do not show up, there is little chance central banks move their stance, and therefore yield grab is still strong. What events should we keep in mind until the end of 2016?
Central banks: ECB starts on sept 8th, with potential information about QE after march 2017. Fed and BoJ are due for 09/21.
Politics: US elections in November, Italian referendum in October/November.
Inflation: We are expecting positive base effects for end of 2016, real rates are already very low, which should push yields higher.
Anything that could awaken markets from its lethargy. Many investors are positioned the same way, on same assets with no volatility and tight liquidity. All systematic models have high risk budget. In short, if there is a small pickup in volatility, all is set to have a self-sustained selloff.
La Française's Essentiel Markets brings you an insightful analysis of the latest financial news by François Rimeu, Head of Total Return at La Française Asset Management.