Increase in the ISM non-manufacturing index at 57.4 in United States last month
The move higher in bond yields has continued last week with German yields 10bps higher, reaching their YTD high at 0.56%, we see the same movement in the United States, Canada, etc. However, no specific news this week but large positions from investors seem to be unwound, which explains current moves.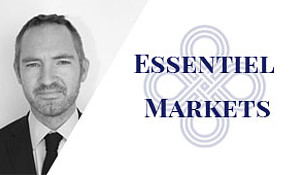 ECB is trying to soothe tensions by saying accommodation withdrawal will be gradual, support is still justified, etc. For the moment, impact is close to nil.
Euro curve implies today a first hike in June 2018 and 25bps hikes in total in 2018. This would imply quite a brutal end to QE (from 60 billion Euros per month until December 17 to 0 in June), since Mister Draghi always said rate hikes will come after QE end. This scenario is not impossible, but looks quite an aggressive one. Given where inflation is, we do not think German front end will go much further from here. Regarding the long end, there is still some room left, real rates are still pretty low but here again, we are close to target and a short position does not look very asymmetric. On the other hand, we think there is still room to go on US short end.
Eurozone macro data stayed decent with strong German and French industrial production. In the United States, we observe a stunning 57.4 ISM figure coupled with good employment report, even though wage growth did not tick up, once again.
Equities are flat this week, and Eurostoxx is stuck to post election level 3440. We continue to keep the same view : macro is good, micro as well with EPS expected to grow 15% this year. Eurostoxx is up a mere 5% YTD and valuations are close to their historical average. In a world where excess liquidity will continue to flush and be invested, we think Euro equities remain attractive. We could however experience some volatility if fixed income market sell-off persists.
We made modifications this week, taking profits in Euro banks and Euro yields notably.
More about:
La Française Allocation Share Class R
La Française Allocation Share Class I
La Française Allocation Share Class S
The information and material provided do not, by any means, represent advice, offers, solicitations or recommendations for investing in specific investments. All statements reflect the opinions of their authors at their publication date and do not constitute a contractual commitment on behalf of the management company. These assessments are subject to change without notice, within the prospectus' limitations, which is the only legally binding document. La Française Group declines liability in any form for any direct or indirect damage resulting from the use of this publication or the information that it contains. This publication may not be reproduced in full or in part, disseminated or distributed to any third party without the prior written consent of La Française Group.

La Française Allocation is a French UCITS in regards to the 2009/65/CE Directive. The Fund received AMF authorization on July 15th 2003 and was launched on July 31st 2003. The strategy changed as of July 19th 2012. Management company : La Française Asset Management – Paris – approved by the "Autorité des Marchés Financiers" under N GP97076 on July 1st, 1997.
For more information regarding the French regulatory authority - Autorité des Marchés Financiers (AMF) – please visit www.amf-france.org.www.amf-france.org.