Housing Starts on the Rise
This document is directed at investment professionals and qualified investors (as defined by MiFID/FCA regulations)
Each year over half a trillion dollars of new residential construction is put in place, supporting many millions of jobs. Will new construction be a growth engine?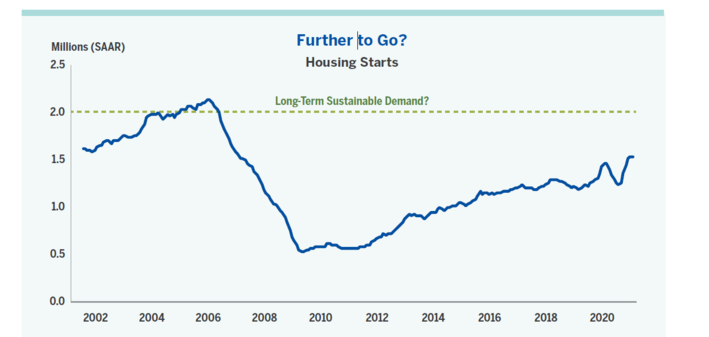 Source: U.S. Bureau of the Census.
Notes: Dark blue line is six-month moving average. SAAR is seasonally adjusted annual rate.
While housing starts have tripled off of their lows in 2009 after the Global Financial Crisis, they are still not at what we would consider normal levels. Household growth is increasing, necessitating new homes for many Americans; household growth has recently averaged more than 1.5 million units per year. When we also consider teardowns of aging units and increased demand for second homes resulting from the pandemic, we believe materially higher levels of housing starts are sustainable over the long term.
Interestingly, government-sponsored mortgage loan company Freddie Mac recently indicated there is a housing shortage of 3.8 million units, which means the country will have to produce homes above the level of long-term sustainable demand. Despite an uptick in interest rates, homebuilders such as Lennar Corporation report that the housing market remains robust across the country. Moreover, the S&P/Case-Shiller U.S. National Home Price Index has seen an 11% increase year over year as of January.
In our view, companies that are positioned to benefit from this trend may include homebuilders, materials businesses, purveyors of home improvement products, retailers that sell homewares and realtors.
Download Alger on The Money