Home Country Bias
This document is directed at investment professionals and qualified investors (as defined by MiFID/FCA regulations)
People tend to gravitate to what they know. In investing, this phenomenon is known as home country bias. Americans generally invest in U.S. companies, Europeans invest in their own region and so on. Could this be an easily correctable mistake?
Investors Gravitate to Their Own Country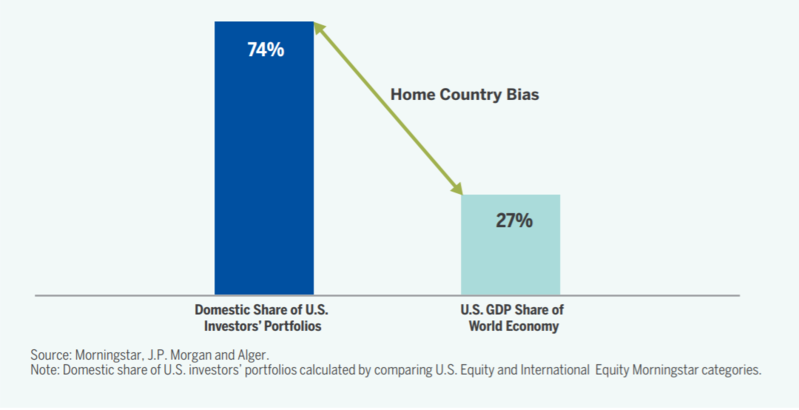 While U.S. investors have over $3 trillion of holdings in international stock mutual funds and ETFs, that pales in comparison to the nearly $10 trillion of U.S. equity mutual funds and ETFs that they own. This 74% allocation to U.S. equities stands in stark contrast to the 27% of global GDP that the U.S. economy comprises.
The result is that most investors own a disproportionate amount of stock in their home country. For Americans, the biggest underweighting may be in emerging markets, which comprise 40% of global GDP. Markets such as China, India and Brazil are also growing much faster than developed markets with potential GDP growth of 4.4% as compared to only 1.4% for developed markets, according to J.P. Morgan.
This may be a good time for investors to address their home country bias given that non-U.S. stocks are trading at a relatively large historical discount to U.S. stocks (see page 18 in Alger's Autumn 2020 Capital Markets: Observations and Insights). We believe prevailing discounts in non-U.S. equities make them attractive complements to U.S. equities.
Download Alger on The Money