This content is for professional investors only as defined by the MiFID.
Over the past two decades, small cap growth stocks have typically traded at a price-toearnings (P/E) premium relative to large cap stocks. But what are the implications when small cap growth is at a discount to large caps, as they are today ?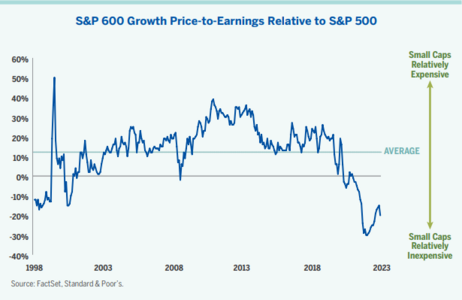 Historically, the small cap S&P 600 Growth Index has traded at an average premium of 12%, relative to the large cap S&P 500 Index as shown in the chart above. This makes sense given the faster growth that should be inherent in small cap growth fundamentals.
As of March 31, 2023, the small cap growth index presented a P/E discount of about -20%. Moreover, small cap growth stocks are currently trading at a P/E discount below February 2001 levels.
We believe investors may want to review their equity allocations to small cap growth stocks, considering what is a historically big discount to large cap stocks.
La Française AM Finance Services, in accordance with the terms of an agreement signed with Alger Management, Ltd, is a distributor of the Alger SICAV in Europe.