Grocery innovation
This document is directed at investment professionals and qualified investors (as defined by MiFID/FCA regulations).
People worldwide are worrying about the coronavirus and potentially stocking up on groceries.
With all this attention on food retailers, it's important to note that the grocery industry made few consumer facing innovations during the 25 years leading up to 2017. In 2017, however, Amazon acquired Whole Foods and everything changed; now grocers—small and large—are making technology improvements and harnessing the power of the internet.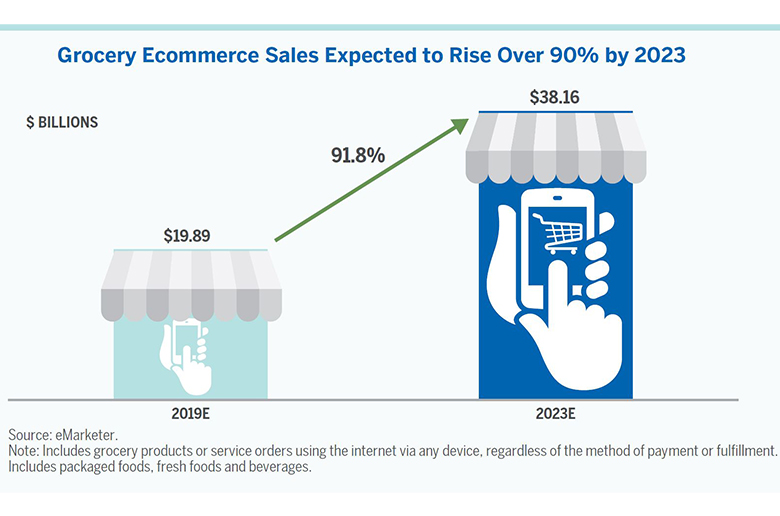 The trend of buying groceries and prepared food online is expected to grow considerably over the next few years. When Amazon acquired Whole Foods, shockwaves surged through the industry and the incumbent large brick and mortar grocery chains realized they needed to innovate in order to survive.
One major initiative is click and collect, which allows customers to order groceries online or via a mobile app and then pick up the groceries pre-bagged curbside at the store. Our research indicates that in locations where this service is available, up to 8% of sales are from click and collect, with half of that figure being new business. The incumbents are also launching home delivery.
Amazon is developing two new grocery initiatives. Amazon Ultrafast offers grocery delivery within one or two hours. Amazon also now has two dozen Amazon Go stores; they are smaller, bodega-like stores with no checkout counter. Customers simply scan their app and pick up what they require.
For consumers, this new wave of innovation is a major benefit. For investors, the tectonic shift to grocery sales online presents opportunities and hazards. Historically, success in this space meant strong real estate and merchandising among other things. Going forward, success will likely be driven by innovation. In our view, those who are not innovating quickly will lose while those companies introducing new products and services to increase convenience for customers are likely to win.
Download Alger On The Money