Grand Re-Opening?
Declining new coronavirus cases in the U.S. and federal guidelines for lifting stay-at-home restrictions are allowing many states to commence or plan for gradually re-opening their economies. While we take no position on how fast states should lift restrictions and note that this is a very fluid situation, the aggregate opening cadence does have important economic implications.
Percent of U.S. Population Not Under Stay-at-Home Restrictions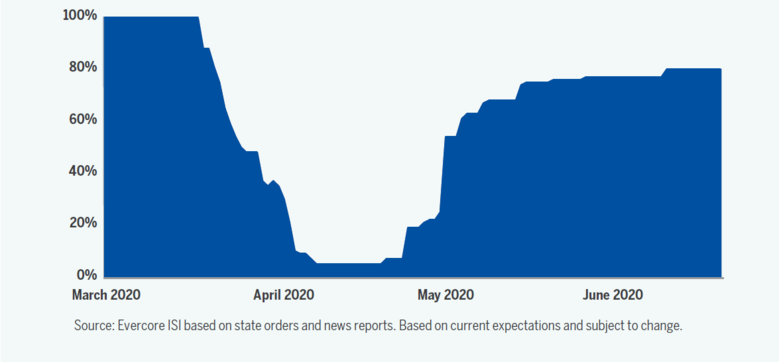 The chart above shows estimates of how much of the U.S. is not or will not be under stay-athome restrictions in the coming months. The trough occurred in April. However, with many states having seen large declines in new cases, states are increasingly lifting their limitations on working and recreation.
Many investors and health professionals are concerned about a second wave of infections. The risk of a resurgence is difficult to quantify. However, we can look to Europe, where some countries have started to ease restrictions or will be easing restrictions in the next couple of weeks. Alger's investment team is actively monitoring the European situation to determine whether a resurgence occurs as well as the pace and pattern of an economic recovery in Europe as an important signal for the U.S.
The current "U" shaped re-opening provides some optimism for potential economic improvement as many people look to get back to work and restart their daily lives and routines. As investors, we at Alger are less focused on the shape of this curve, which is ultimately difficult to predict, and more focused on those innovative themes that we believe are durable through the current economic crisis as well as the eventual recovery.
Download Alger on the Money